SERVES 4 PEOPLE
READY IN 1h 10 '(10' preparation, 60'stand)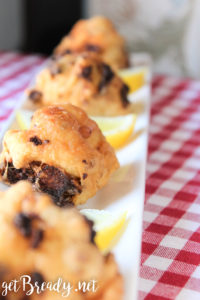 INGREDIENTS
½ oz brewer's yeast mixed with 2 tablespoons water
6 oz lukewarm water
1 egg
2 pinches salt
11 oz all-purpose flour
½ boiled broccoli, cubed
frying oil to taste
STEP 1: PREPARE THE DOUGH
In a bowl, mix the yeast, water, egg, flour and salt. Add the broccoli and mix gently.
STEP 2:LET IT RISE
Let the dough rise covered with plastic wrap for about 1 hour.
STEP 2: FRY THE "FRISCEU"
Heat the oil in a large frying pan over medium-high heat.
Add some tablespoon of dough to the pan and brown on each side, about 5 minutes total.
#getbready & enjoy your meal
Share on:
Salva
Salva
Salva
Salva
Salva
Salva