SERVES 4 PEOPLE
READY IN '40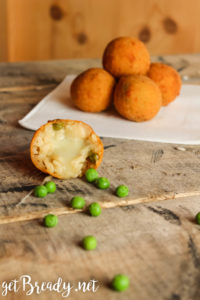 INGREDIENTS
 1 teaspoon onion, chopped
3 tablespoons extra virgin olive oil
4 tablespoons beans
Brothe/hot water to taste
Vegetable stock powder to taste
2 cups rice
¼ glass white wine
3 tablespoons grated Parmesan cheese
Pepper to taste
8 oz Fontina cheese, cubed
3 tablespoons all-purpose flour
1 egg
1 cup breadcrumbs
Frying oil to taste
STEP 1:PREPARE THE RISOTTO
Put in a frying pan onion and oil. Add the beans and cook for 5 minutes (if  necessary add  some tablespoons of broth or water). Finally, add a teaspoon of vegetable stock powder.
Add the rice and toast it. Add the white wine, and stir continually over medium heat until it is absorbed. Add a ladle of broth and cook over medium heat (it must boil) for 15-20 minutes, occasionally adding a ladle of broth (or whenever the rice tends to dry).
Before turning the fire off taste the risotto to check the flavor and  if  necessary add vegetable stock powder.
STEP 2: ADD THE CHEESE
When the risotto is cold , add the Parmesan cheese and pepper to taste. Mix throughly.
STEP 3: SHAPE THE ARANCINI
With wet hands, take a little of mixture and make it round, then fill each arancino with a cube of cheese.
STEP 4:BREAD THE ARANCINI
Place in 3 different dishes: 2 tablespoons all-purpose flour, 1 beaten egg and 1 cup breadcrumbs. Dip each arancino in the flour, then coat in the egg before dipping in the breadcrumbs.
STEP 5: FRY THE ARANCINI
Fry the arancini in a pan with deep hot oil turning them several times until completely cooked (about 4-5 minutes).
#getBready & enjoy your meal
Share on: