SERVES 2 PEOPLE
READY IN 5'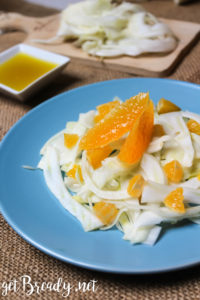 INGREDIENTS
½ orange juice
2 tablesponns extra virgin olive oil
Salt to taste
1 orange
1 fennel
STEP 1: PREPARE THE DRESSING
Mix together the orange juice, olive oil and salt. Mix well.
STEP 2: CUT THE ORANGE
Pell the orange with a knife, then slice it. Cut each slice in small pieces.
STEP 3: CUT THE FENNEL
Cut the top and the bottom of the fennel removing also the external part. Slice the fennel.
STEP 4: SEASON THE SALAD
In a bowl place  the fennel, the orange and season with some tablespoons of the dressing .
A PIECE OF ADVICE: This salad is delicious combined with aubergine rolls filled with Vienna sausage! Why don't you try it?
#getBready & enjoy your meal
Condividi su:
Salva