MAKES 6-7 BUNS
READY IN 3 h 30'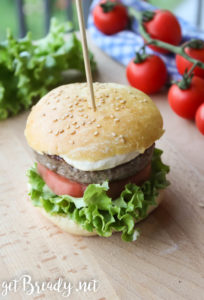 INGREDIENTS
3 cups all-purpose flour
½ cup warm water
2 tablespoons butter
1 egg
1 oz  brewer's yeast  dissolved into 2 tablespoons warm water
3 tablespoons sugar
1 teaspoon salt
1 egg yolk + 1 teaspoon water
Sesame /white poppy seeds to taste
STEP 1: MAKE THE DOUGH
Place in a bowl the flour, the water, the butter,  the egg, the brewer's yeast  + water mixture and the sugar.
Knead for 5 minutes, then add the salt and carry on kneading until smooth.
STEP 2: LET IT RISE
Place the dough in a bowl and cover it with cling film. Let it stand at room temperature for a couple of hours.
STEP 3: CUT THE DOUGH INTO CIRCLES
Put some flour on the pastry board, then place the dough on it and roll it out.
Cut 6-7- circles  (diameter 8 – 10 cm) and let them rise at room temperature on a baking tray covered with  parchment paper for 1 hour.
STEP 4: BAKE THE BUNS
Sprinkle the buns with egg yolk + water mixture , cover with a bit of  sesame / white poppy seeds and bake in preheated over at 200°C for 15 minutes.
#getBready & enjoy your meal
Share on :