It's a traditional italian recipe very tasty and easy! There's no need to prepare complicated preparation if you're able to cook the roasted cockerel. Crunchy crust and a bit soggy in the middle…
SERVES 4 PEOPLE
READY IN 55'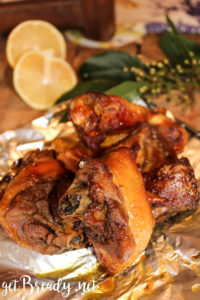 INGREDIENTS
1 cockerel into pieces
Water and vinegar and to taste
3 tablespoons extra virgin olive oil
2 tablespoons onion, chopped
Rosemary to taste
½  glass white wine, dry
2-3 cups hot water
Salt to taste
STEP 1: CLEAN THE COCKEREL
Clean the cockerel pieces in a bowl with water and vinegar; then dry them.
STEP 2: SAUTÈ
Place in a casserole oil, onion and rosemary and let them sauté until golden.
STEP 3: ADD THE OTHER INGREDIENTS
Add the cockerel and sauté until it changes its color. Simmer with white wine until reduced, then turn the heat to low. Carry on cooking for 30 minutes adding – little by little – water and salt.
STEP 4: BAKE
Place the casserole into oven and cook the cockerel in preheated oven at 250°C for 15 minutes and it's done!
#getBready& enjoy your meal
Share on:
Salva
Salva
Salva
Salva
Salva
Salva
Salva