You don't need to be a famous chef to cook this amazing dessert! Really nice to look and very easy to prepare 😉
MAKES 10 ROSES
READY IN '50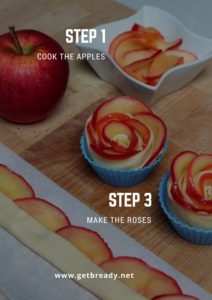 INGREDIENTS
2 apples (red ones)
1 teaspoon butter
2 tablespoons sugar
2 -3 tablespoons lemon juice
1 puff pastry sheet
Water to taste
STEP 1: COOK THE APPLES
Cut the apples in half, remove the core and cut them in paper-thin slices. Cook them in a small pot with butter, sugar and lemon juice for about 5 minutes.
STEP 2: CUT THE PUFF PASTRY
Place the puff pastry on a lightly floured pastry board. Cut it in half then, using a rolling pin ,stretch the dough and cut each half in 5 strips (about 4 cm thin).
STEP 3: MAKE THE ROSES
Arrange the apple slices on the dough (overlapping one another). Coate the dough lower part with water, then place it on the other one (the one with apples) making sure the top of the slices sticks a little out of the strip! Roll up the dough and place it in a regular muffin cup (better with ramekin).
STEP 2: COOK THE ROSES
Cook the roses in preheated oven at 180° for 40 minutes.
#getBready & enjoy your meal
Share on:
Salva
Salva
Salva