Who says that cheese and fish are not a good match? I love them! Crispy and tasty outside, delicate flavour inside! A beloved children's recipe
MAKES 8 BITES
READY IN 10'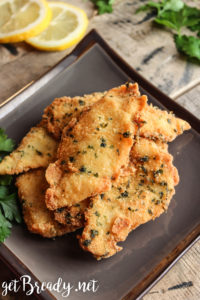 INGREDIENTS
3-4 tablespoons breadcrumbs
1 tablespoon TrentinGrana cheese
1 teaspoon parsley, chopped
2 tablespoons all-purpose flour
1 beaten egg + 1 pinch salt
8 fish fillets
Frying oil to taste
Salt to taste
STEP 1: PREPARE THE BREADCRUMBS MIXTURE
Ina  bowl mix together: breadcrumbs, TrentinGrana cheese and parsley.
STEP 2: BREAD THE FISH FILLETS
Place in 3 different dishes: 2 tablespoons all-purpose flour, 1 beaten egg + salt and the breadcrumbs mixture. Dip each fillet, in the flour, then coat in the egg before dipping in the breadcrumbs.
STEP 3: COOK THE FISH
Fry the fish fillets  in a pan with deep hot oil turning them several times until golden (about 2-3 minutes). Place the fillets on kitchen paper and add a pinch salt!
A PIECE OF ADVICE: for this recipe I usually prefer freshwater fish ('cause I live very near Garda lake!), but if it's difficult for you to find it, you can also use saltwater fish 😉
#getBready & enjoy your meal
Share on:
Salva
Salva
Salva