These fritters (called "castagnole" because of their color) are a traditional carnival recipe. Let's add a new taste thanks to tangerine juice and rum to make them even more delicious!
MAKES ABOUT 40 BITES
READY IN 45'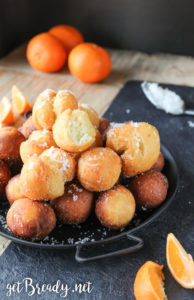 INGREDIENTS
4 oz Ricotta cheese
2 tablespoons sugar
½ egg
3 tangerines (juice + zest)
1 tablespoon rum
1 pinch salt
7 oz all-purpose flour + ½ teaspoon baking powder
all-purpose flour to taste (for the pastry board)
Frying oil to taste
Sugar to taste
STEP 1: MIX WET INGREDIENTS
Mix together: Ricotta cheese, sugar, egg, tangerine juice and zest, rum and salt. Beat well to get a smooth mixture.
STEP 2: ADD DRY INGREDIENTS
Add all-purpose flour + baking powder little by little until you'll get a firm dough. Now knead it by hand and make it round.
STEP 3: LET IT REST

Cover the dough with a towel and let it rest for about 30 minutes.
STEP 4: SHAPE THE FRITTERS
Divide the dough into about 20 pieces and make them round.
STEP 5: FRY

Fry the fritters into deep and hot oil. Pay attention to the temperature, if it's too hot fritters won't cook inside!When ready, drain them and cover with sugar!
A PIECE OF ADVICE: Do you prefer vanilla instead of tangerine? if so, it's very easy to change the taste of these fritters: replace rum and tangerine juice with milk + vanilla in the same quantity.
#getBready & enjoy your meal
Condividi su: