For the most romantic day of the year an original idea to exchange love and gift.. let's do it with a tender breakfast in bed!

SERVES 2 PEOPLE
READY IN 16′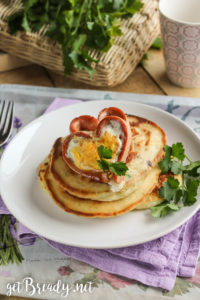 INGREDIENTS:
1 egg
4 1/2 oz milk
3 tablespoons oil
4 oz all-purpose flour
1 tablespoon Parmesan cheese
parsley, chopped to taste
1 teaspoon instant yeast
Salt to taste
1 teaspoon butter
2 hotdogs
1 teaspoon oil
2 eggs
parsley to taste
STEP 1: LET'S MAKE THE PANCAKES

Place the first 8 ingredients in a bowl and beat well.
STEP 2: COOK THE PANCAKES
Place the butter in a pan and let it melt, then add a ladle of batter for each pancake. Cook on both sides for  4-6 minutes in total.
STEP 3: MAKE THE HOTDOG HEART
Cut the hotdogs in a half, then spear the two halfs with a toothpick. Now bend the two free halfs until you can close them. Lock them with another toothpick to get the heart (take a look at the picture, it's easier to make than explain!).
Place the two hearts in a pan with oil and fill the centre with the eggs. Cook for about 5 minutes.
STEP 4: THE FINAL TOUCH

Place a couple of pancakes ina a dish, and the hotdog heart on them. Decore with some parsley.
#getBready & enjoy your meal
Share on: