Everyone loves pizza and everyone cooks it in his own way. This is my puff pastry-party -pizza recipe: crunchy outside and cheesy in the centre!! The ideal snack for your parties 🙂

MAKES ab. 15-20 BITES
READY IN 10′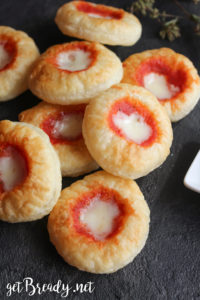 INGREDIENTS
1 puff pastry sheet (rectangular)
3 tablespoons tomato sauce
1 tablespoon extra virgin olive oil
salt and oregano to taste
1 mozzarella, cubed
STEP 1: COOK THE PUFF PASTRY
Using a glass, cut about 15-17 circles in the puff pastry sheet. Place them on parchement paper and cook them in preheated oven at 220°C for a couple of minutes (until they get swollen).
STEP 2: MAKE THE SAUCE
In a bowl mix tomato sauce, oil, salt and oregano.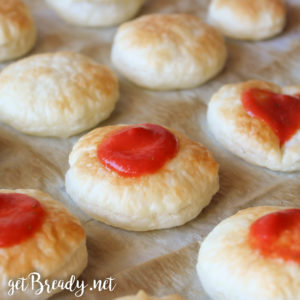 STEP 3: STUFF

Remove the puff pastry circles from the oven and add a teaspoon of tomato sauce and a cube mozzarella on each of them.
STEP 4: COOK
Cook the stuffed pizza in the oven again for a couple of minutes (until the cheese melts).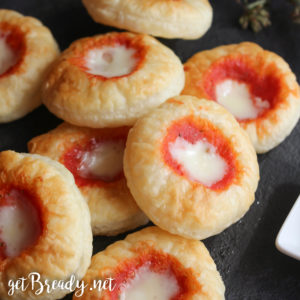 #getBready & enjoy your meal
Share on: