I confess, I really don't like anchovies in salt even if they're a typical dish of the Italian cuisine! So please give me a chance to  make up for this with a delicious recipe made of fresh anchovies with potato and marjoram.. ready?

SERVES 5 PEOPLE
READY IN 25'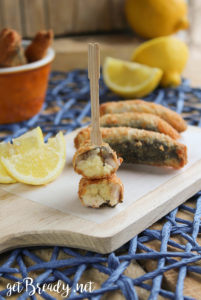 INGREDIENTS
About 40 fresh anchovies
1 egg
2 tablespoons Parmesan cheese
2 tablespoons breadcrumbs
2 small potatoes, boiled and mashed
1 teaspoon marjoram
Salt peper and nutmeg to taste
1 beaten egg +  1 pinch salt
Breadcrumbs to taste
Frying oil to taste
STEP 1: CLEAN THE ANCHOVIES

Gut the fish, remove the fishbone and the head. Wash carefully, then dry them with kitchen paper.
STEP 2: MAKE THE FILLING

In a bowl mix: egg, Parmesan, breadcrumbs and potatoes and add salt, peper and nutmeg to taste.
STEP 3: STUFF AND BREAD THE FISH
Fill each anchovy with a teaspoon of filling , then deep them into the beaten egg then into breadcrumbs.
STEP 4: FRY
Fry the fish in hot oil for a couples of minutes.
#getBready & enjoy your meal
Share on: