Not the usual salad but a different one, rich in energy but refreshing too! I used to eat it a few months ago while working.
SERVES 4 PEOPLE
READY IN 7′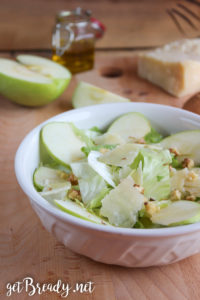 INGREDIENTS
1 head of lettuce
2 green apples
1 block of Grana cheese
about 10 walnuts
salt and oil to taste
STEP 1: WASH THE LETTUCE

Cut lettuce, then wash it under water. Finally dry it.
STEP 2: PREPARE THE OTHER INGREDIENTS

Wash and slice the apples. Slice Grana cheese too and break the walnuts.
STEP 3: COMBINE AND SEASON

Place the ingredients in a bowl, mix them and season with oil and salt.
getBready & enjoy your meal
Share on: