Homemade creme caramel is something delicious! So much better than those you find in the supermarket. Only genuine ingredients for an amazing gluten-free dessert.
MAKES 6 CREME CARAMEL
READY IN 50'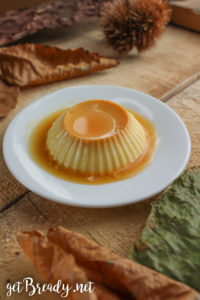 INGREDIENTS
4 oz sugar
2 oz boiling water
4 egg yolks
vanilla extract to taste
1 & 1/2 oz sugar
1 cup milk
1 fluid ounce fresh cream
STEP 1: MAKE THE CARAMEL

Place sugar in a saucepan over low heat. Cook for ab. 15-20 minutes ( until brown), then add water, stir and remove from heat.  Pour caramel mixture into six ovenproof dishes. Set aside.
STEP 2: MAKE THE CREME CARAMEL
In a bowl beat egg yolks with vanilla extract and sugar (ab. 8 min).
STEP 3: ADD THE INGREDIENTS

Porta a bollore il latte e la panna ed aggiungili alla ciotola dei tuorli, poi filtra tutto con un colino per eliminare la schiumetta o le bollicine che si sono formate in superficie.
STEP 4: POUR
Pour creme caramel mixture  into the ovenproof dishes (where you put the caramel).
STEP 5: COOK
Place dishes in a large baking dish and pour water into it until halfway up the sides of smaller dishes. Bake for 25 minutes at 150°C.
STEP 6: TURN OUT

When cold, turn the creme caramel out onto dessert dishes.
#getBready and enjoy your meal
Share on: