My sister's favorites! 

These appetizers are so crunchy and tender at the same time, so tasty.  An ideal snack for festivities and parties, very very easy to prepare and quick too. You can't resist!

MAKES 12 BITES
READY IN 25′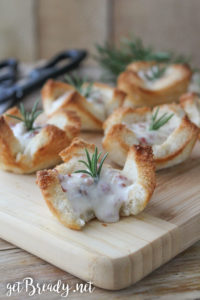 INGREDIENTS
2 sausages
1 teaspoon butter
1 teaspoon onion, chopped
white wine to taste
1 cup béchamel sauce  (here the recipe)
12 slices white bread (here the recipe)
melted butter to taste
Rosemary to taste
STEP 1: CHOP THE SAUSAGES

Chop the sausages with a knife.
STEP 2: COOK THE SAUSAGES

Melt butter together with onion and let them golden. Add chopped sausages and cook for about 10 minutes. Finally simmer with white wine until reduced.
STEP 3: MAKE THE FILLING

In  a small bowl mix béchamel sauce and cooked saugages.
STEP 4: MAKE THE CRUST

Cut the bread crust.
Brush a muffin tin with melted butter then place into each hole a bread slice and press well. Cook the bread slices in preheated oven at 200 °C for 4 minutes.
STEP 5: FILL THE BITES

Remove the muffin tin from the oven, fill each bread bite with the filling previously prepared and cook in oven for 4 more minutes.
Decore with rosemary.
#getBready & enjoy your meal
Share on: