Sunday lunch is approaching and fortunately there are so many ideasy to make the family happy!

Today I'm suggesting you an original lasagna: the classic Bolognese sauce (the so called "ragù") is replaced by a tasty artichoke sauce!  Tender slices of potatoes combined with a velvety béchamel sauce offer an incredible creaminess! Must try 😉
SERVES 4/6 PEOPLE
READY IN 35′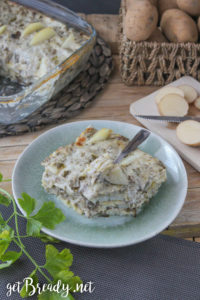 INGREDIENTS:
3 potatoes
Water and coarse salt to taste
2 oz butter
2 oz all- purpose flour
2 cups cold milk
Salt and nutmeg to taste
fresh egg pasta sheet (I use sfogliavelo Rana)
hot water
2 cups artichoke (click for the recipe)
3 tablespoons Parmigiano cheese
STEP 1: BOIL THE POTATOES
Peel and slice the potatoes, then place them in boiling salted water for about 10 minutes. Drain carefully.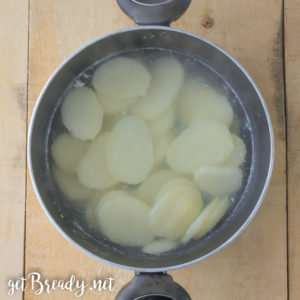 STEP 2: MAKE THE BECHAMEL SAUCE
In a non-stick saucepan, melt the butter. Remove from heat and add the flour, stirring with a whisk until you'll get a golden cream. Put the pan on the fire and add the milk,  beating with a whisk to avoid lumps. Add salt and nutmeg to taste. Carry on cooking over low heat for 10 minutes. If it gets too firm you can add a little milk!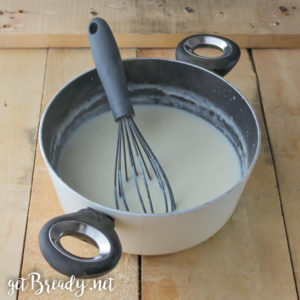 STEP 3: MAKE PASTA SOFT
Place the fresh egg pasta sheets in a bowl with hot water for 5 seconds, than drain them and place them on a kitchen rag.
STEP 4: PLACE INGREDIENTS IN THE BAKING TIN
Spread two tablespoons of bechamel sauce into the baking tin, then cover with a pasta sheet;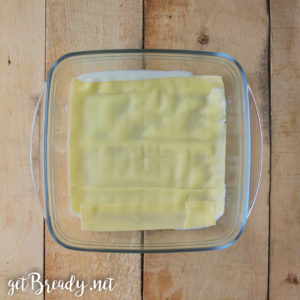 Add a ladle  bechamel sauce and two tablespoons artichoke sauce,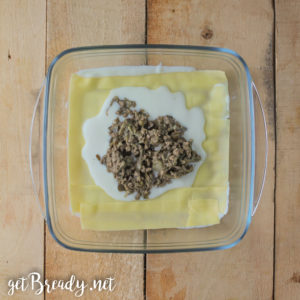 Mix the sauces with a spoon.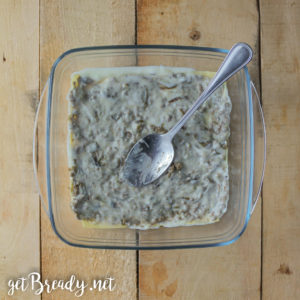 Cover with boiled potatoes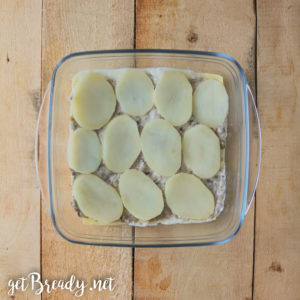 And sprinkle with Parmigiano cheese.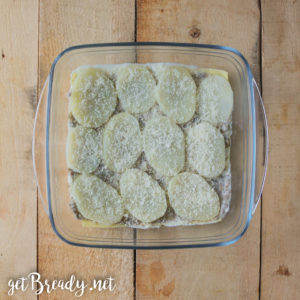 Do the same with the remaingin ingredients to get lasagna layers.

Finally sprinkle the top with bèchamel sauce, artichoke sauce, Parmigiano cheese and potato slices (if leftover).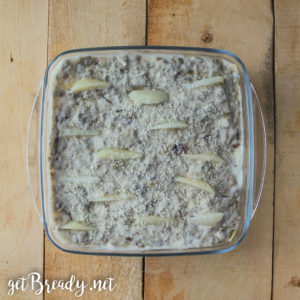 STEP 3: COOK
Cook lasagna in preheated oven  at 200°C for about 18-20 minutes.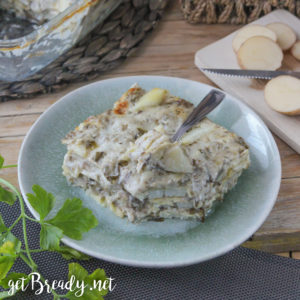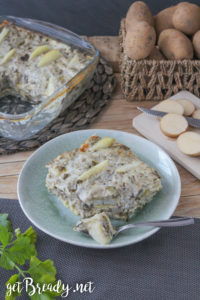 #getBready & enjoy your meal
Share on: