Mortazzaparty? If the answer is a loud yesss! it's time to make this delicious focaccia bread!

The base is a spelled flour pizza with a cheese filled soft crust. The main filling is the top for gourmands: cheese, mortadella and pistachios and… a few leaves of lettuce ('cause you know vegetable is important! :-))
SERVES 4-6 PEOPLE
READY IN 35′
INGREDIENTS
3 tablespoons fresh cheese (I used Stuffer)
1 spelled flour pizza dough (I used Stuffer)
1 mozzarella
extra virgin olive oil to taste
salt to taste
milk to taste
4 mortadella slices
salad to taste
1 tablespoon pistachio, minced
STEP 1: FILL THE BORDER
Place fresh cheese in a bowl and make it softer with a fork, then place it into a pastry bag.
Place the pizza dough on a baking paper sheet and squeeze the fresh cheese near the border.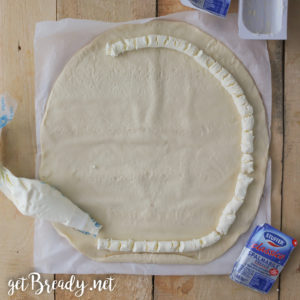 Now cover it with the dough and press well with the fingers.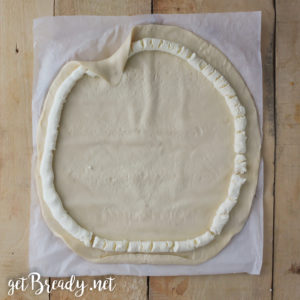 Save the remaining fresh cheese for step 3!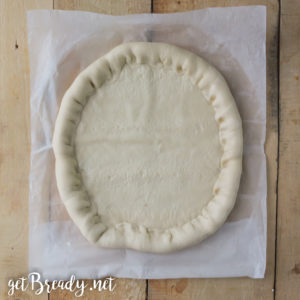 STEP 2: ADD THE OTHER INGREDIENTS
Place the pizza dough  in a round baking pan. Fill it with mozzarella cubes, a little oil and salt. Brush the borders with milk.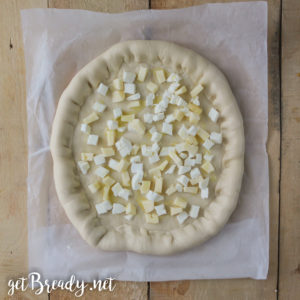 STEP 3: COOK AND COMPLETE IT
Cook the quiche in preheated oven at 230°C for about 25-30 minutes.
Complete then the quiche adding mortadella slices,
fresh cheese (saved from step 1)
salad leaves and sprinkles with pistachio.
#getBready & enjoy your meal
Share on: