I've always been fascinated by Ricotta and chocolate cheesecake, oh yes!

So this time finally I decided to make my own version, super yummy because of a personal variation: chocolate cream!

You know, according to the experts, breakfast is the most important meal of the day and this is the best way to start the morning (even if you've planned to climb Everest!)
SERVES 6-9 PEOPLE
READY IN 1h 30'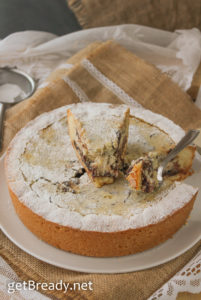 INGREDIENTS:
2 cups all-purpose flour
1 egg
1 egg yolk
5 oz butter (cubed and cold)
5 oz sugar
1 teaspoon baking powder
1 pinch of salt
1 pinch lemon zest
2 eggs
5 oz sugar
1,7 oz potato starch
1 tablespoon rum
14 oz Ricotta cheese
1 chocolate bar
Butter and flour to taste
Hazelnut cream to taste
STEP 1: MAKE THE SHORTBREAD
If you use a mixer: place the first 8 ingredients into the mixer bowl (the one with blades!) and blend for 3-4 minutes; then palce the dough on a lightly floured pastryboard and quickly knead by hand to get a ball.
If you knead by hand: make a circle with flour on the pastry board, put the eggs and the butter in small pieces in the center and with a fork start combining. Add the remaining ingredients and, as the dough solidifies, start kneading by hand until you'll get a homogeneous ball.
Now wrap the pastry ball in plastic wrap and let it rest in the refrigerator for half an hour.
STEP 2: MAKE THE FILLING
In a bowl, beat the eggs together with sugar using the electric whisk to get a light and frothy mixture.
Add sifted starch, rum, ricotta and coarsely chopped chocolate.
Mix.
STEP 3: ROLL OUT THE PASTRY
Grease and flour the cake tin, then keep it aside.
Dust the pastry board with flour.
Remove the cake dough from the fridge and using a rolling pin roll it out to get a circle, a couple of centimeters wider than the cake pan in which you will bake the cake (in this way make the side edges will be easier).
Place the circle of pastry in the pan pressing with fingers on the bottom and on the edges too. If the pastry breaks don't worry, adjust it by pressing with fingers.
STEP 4: STUFF
Spread the cake dough with a layer of hazelnut cream
Now add the ricotta-based filling prepared on step 2.
STEP 5: COOK
Bake the cake in a preheated oven at 180 ° C for 45 minutes.
Before removing the cake from the mold, let it cool down, it risks breaking if you move while still hot.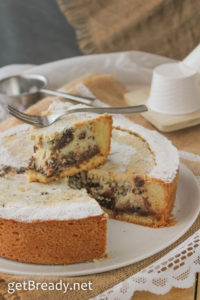 #getBready & enjoy your meal
Share on: