When I have no time to cook and I'm looking for a side dish, ideal for steak and hamburger, Onion & speck potato little cakes are the perfect solution!

So fast, it doesn't need you look after it while cooking and the crunchy taste is simply unforgettable! 

Be sure: You'll fall in love with this recipe.
MAKES 5 ROSTI ( 8 cm diameter)
READY IN 25'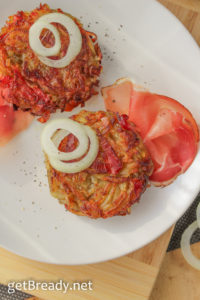 INGREDIENTS:
4 potatoes, medium
10 slices Italian speck
½ onion
Salt and pepper to taste
1 teaspoon potato starch
1 tablespoon extra virgin olive oil
1 teaspoon butter
STEP 1: GRATE THE POTATOES
Peel and grate the potatoes coarsely. Now squeeze them by hand removing the liquid.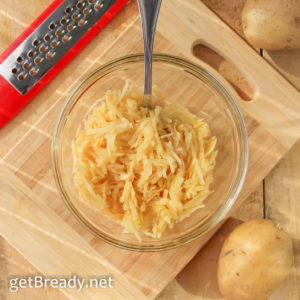 STEP 2: SLICE
Slice Italian speck and onion.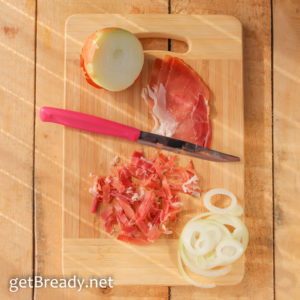 STEP 3: ADD THE OTHER INGREDIENTS
Place in a bowl: potatoes, speck, onion, salt, pepper, and potato starch. Mix with a spoon.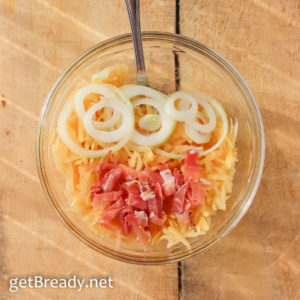 Heat a large frying pan over a medium heat and add a extra virgin olive oil and a teaspoon butter. Place a spoonful of mixture in the pan and gently try to push it down to create a circular shape.
Do the same with the remaining potato (you can also use a metal chef's ring to get a more regular shape).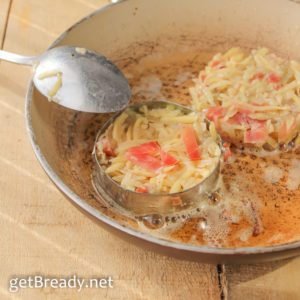 Cook the potato rosti little cakes for 10 minutes on both sides (covered with a lid), until cooked inside and crispy outside.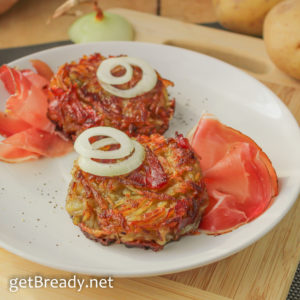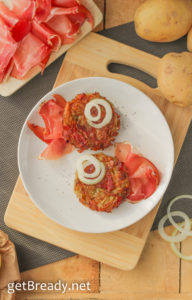 #getBready & enjoy your meal
Share on: