Do you know what is the biggest hoax about fresh homemade pasta?

… that's hard !!! because I swear it is not!

Trust me, it's really easy.

You can do it with the pasta machine, but if you do not have it, there's no problem: you only need a rolling pin and in a few steps you will proudly bring fantastic noodles to the table!
SERVES 4 PEOPLE
READY IN 45'
INGREDIENTS:
2 cups all-purpose flour
3 eggs
All-purpose flour and durum wheat flour to taste
2-3 US quart water
1 tablespoon  coking salt
STEP 1: MIX THE INGREDIENTS
Place the flour on the pastry board, make a hole in the centre and crack the eggs into it.
Beat the eggs with a fork until smooth,
mixing them with flour until combined.
STEP 2: KNEAD BY HAND
Knead the dough by hand
until smooth and silky (about 15 min.).
STEP 3: LET THE DOUGH STAND
Let it stand for 15-20 minutes wrapped in cling film.
STEP 4: ROLL YOUR PASTA
Dust the pastry board with a bit of all-purpose flour. Cut dough into quarters and strat pressing with fingers to make them thinner.
Now you can choose:
– make it thinner with the rolling pin;
– make it thinner with a pasta machine: make sure to sprinkle pasta with flour and start pressing pasta from the larger notch.
you'll get a rather thick first sheet:
sprinkle it with flour
close it in half
and press it another time into the pasta machine always in the widest notch.
It helps to to dry the pasta.
Now you can move the notch of the pasta machine to a slightly thinner value (I recommend you always proceed step by step and remember to  flour, fold and press the dough before moving the notch).
As you thin the pasta it will tend to stretch. To make the work easier,  cut the dough in half and continue to thin it.
STEP 5: SLICE TAGLIATELLE
If you work by hand: roll the dough on itself, thus obtaining a roll that you will cut into slices of approx. 5 – 6 mm thick;
If you have the pasta machine: pass the dough in the appropriate support to make noodles.
STEP 6: COOK THE TAGLIATELLE
Cook the tagliatelle in salted boiling water for about  4-5 minutes.
A PIECE OF ADVICE if you don't cook the tagliatelle immediately, stock  them  into the fridge covered with cling film and dust with All-purpose / durum wheat flour .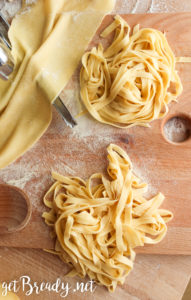 #getBready & enjoy your meal
Share on:
Salva
Salva
Salva
Salva
Salva