You know during summertime everyone feel like something fresh and light.

Galleries are infact full of cold dishes such as salads, veal with tuna sauce & company …

But if I have to be honest, I feel a little closer to the stereotype of traditional Italian families who bring Parmesan to the beach 🙂 !

So today I'm suggesting you something special: homemade pasta (very easy to prepare and really good take a look at my recipe here) seasoned with an amazing sauce: sausage, asparagus and saffron.

Mouth-watering!
SERVES 4 PEOPLE
READY IN 15′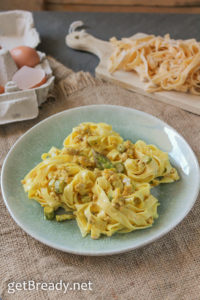 INGREDIENTS:
ab. 15 asparagus
2 tablespoons extra virgin olive oil
1 teaspoon onion, chopped
2-3 sausages
1 pinch salt
1/2 teaspoon saffron powder
2 tablespoons hot water
5 tablespoons cooking cream
14 oz fresh tagliatelle pasta  (click for my recipe)
water and coarse salt to taste
pepper to taste
STEP 1: CUT THE ASPARAGUS
Wash the asparagus and remove the hardest part (the one at the base) cutting it off.
With a knife cut them into rings (if you want you can keep the tips a little longer).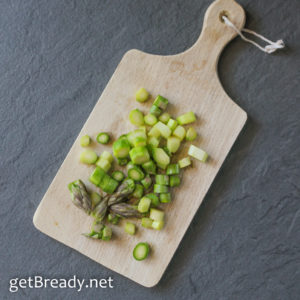 STEP 2: ADD THE SAUSAGE
Brown the onion in the oil for a minute in a non-stick pan. Add the asparagus and cook for a couple of minutes, stirring with a wooden spoon.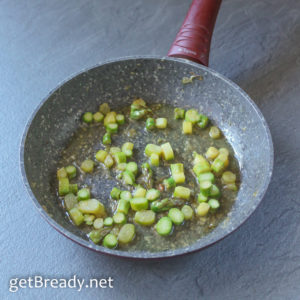 Separately prepare the sausages by removing the casing. Simply crush them with a fork and add them to the asparagus. Cook a couple of minutes adding a pinch of salt.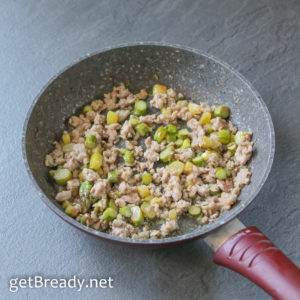 STEP 3: ADD SAFFRON
Dissolve saffron in hot water and mix with a fork. Add it to the pan together with cream.
Stir carefully, then turn the heat off.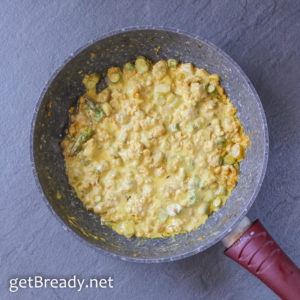 STEP 4: COOK PASTA

In the meantime, dip tagliatelle (if you want to make them at home follow my recipe: you can find it here) in abundant boiling salted water and cook for 2-3 minutes.
Drain and dip directly into the sauce pan.
Mix well, add a pinch of pepper and bring to the table!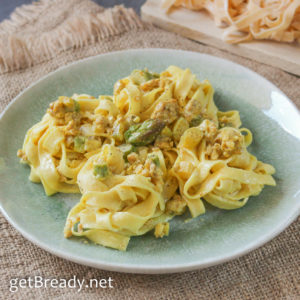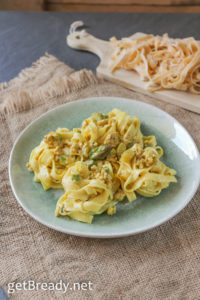 A PIECE OF ADVICE: Always keep aside a cup of pasta cooking water to stretch the sauce and make it more fluid if necessary 😉
#getBready & enjoy your meal
Share on: