Color power!

Spätzle are dumplings ready in just a few minutes that can really be prepared with many, many different ingredients.

This is the turn of the beetroot which, in addition to giving a pleasant slightly sweet note, transforms this first course into a triumph of color: particularly suitable for celebrating Women's Day !  Do you agree?
SERVES 4 PEOPLE
READY IN 18'
INGREDIENTS:
7 oz boiled beetroot
2 eggs
3,1 oz water
Salt to taste
7 oz all purpose flour
4,2 oz butter
Sage leaves to taste
Water and coarse salt to taste
2 tablespoons Parmigiano cheese
STEP 1: BLEND
Put into the mixer: peeled boiled beetroot, eggs, water, salt and blend for 30 seconds.
STEP 2: ADD THE FLOUR
Add the flour and carry on blending for 1 minute. Place the mixture in a bowl and let it rest for 15 minutes.
STEP 3: MAKE THE SAUCE
Melt the butter into a non-stick pan with sage leaves.
STEP 4: COOK "SPATZLE"
Boil water and add salt. Now, using the specific tool, place spoonfuls of mixture into the white box and move it back and forth to make spätzle fall into the water.
Spätzle will be ready 1 minute after they coming out.
Drain spätzle and place them into the sauce pan.
Mix carefully and sprinkle with cheese.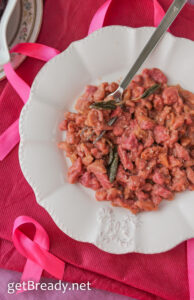 #getBready & enjoy your meal
Share on: