Do you want something new? Then it's time to try the chicken and pea sauce!

So delicious and very simple, ideal for pasta but also for risotto or as delicious filling for tacos (just like chili!)

Try it and you will never leave it!
SERVES 8-10 PEOPLE
READY IN 1H 10′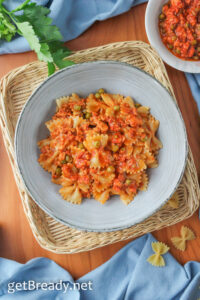 INGREDIENTS:
1 chicken breast
2 tablespoons celery, carrot and onion, chopped
4 tablespoons extra virgin olive oil
Rosemary to taste
¼ glass white wine, dry
1 mashed tomatoes can
3-4 tablespoons
2 teaspoons vegetable stock powder (click for my recipe!)
STEP 1: CHOP THE CHICKEN

Using a knife chop the chicken breast.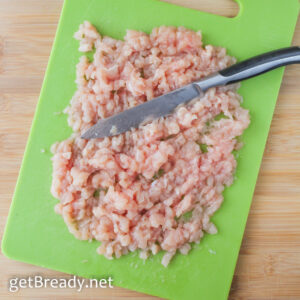 STEP 2: SAUTE' VEGETABLE AND MEAT

In a Medium Size Pot, heat olive oil over medium heat, then add vegetables and Rosemary.
Let them sautè (about 2 minutes), then add meat and mix carefully.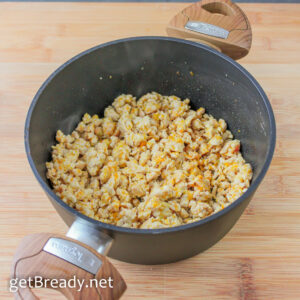 When meat changes its color, simmer with white wine until reduced.
STEP 3: ADD TOMATO AND PEAS

Now add mashed tomatoes and tour the heat on minimum.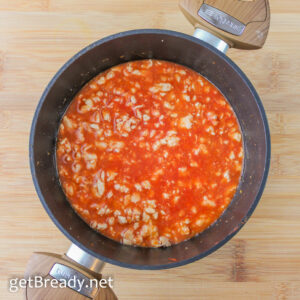 Cook the sauce for 30 minuti, then add 2 tablespoons of vegetable stock powder (here the recipe) and peas and cook for 30 more minutes.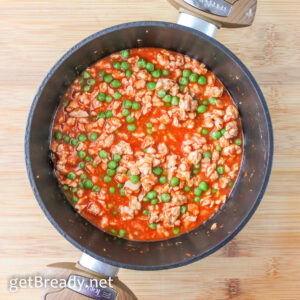 Taste the sauce to check its flavor and make sure it does not dry out too much (if necessary, add one / two ladles of warm water). The pasta sauce will be cooked when you see oil coming to the surface.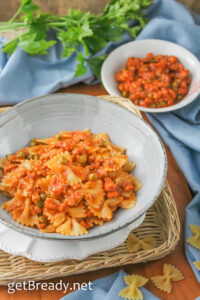 #getBready &enjoy your meal
Share on: