Look: in this recipe there is a bit of everything: the pastry, a soft and tasty filling and a sweet cherry tomato sauce!

A real treat, ideal as an appetizer for special occasions!

All the taste of fish lake, in a crunchy shell!
MAKES 4 BITES
READY IN 30 '
INGREDIENTS:
1 large salmon-trout fillet
1 tablespoon onion, chopped
2 tablespoons extra virgin olive oil
Salt to taste
1 egg
3 tablespoons cottage cheese (ricotta)
1 teaspoon parsley
Salt and pepper to taste
1 puff pastry sheet (I used Stuffer)
water as needed
1 egg yolk
1 tablespoon water
1 pinch salt
1 tablespoon chopped celery, carrot and onion
2 tablespoons extra virgin olive oil
1 cherry tomatoes can
3 basil leaves
Salt to taste
STEP 1: COOK THE TROUT
Remove the skin from the trout fillet and check it to find fishbones (to do this I suggest you to swipe your finger and, if you find any, remove them with tweezers).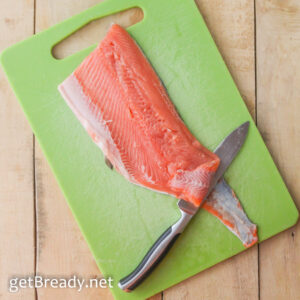 Cut the fillet into bite-sized pieces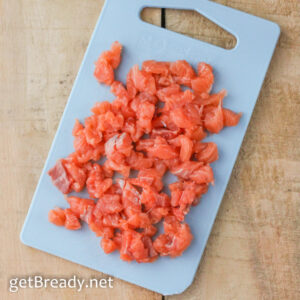 Fry onion in oil for just 1 minute, then add fish and sauté it for a few minutes (it must change color) adding a pinch of salt.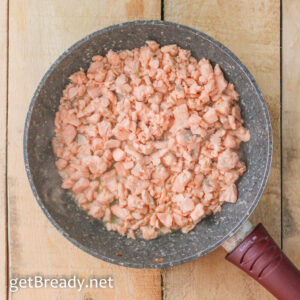 STEP 2: COMPLETE THE FILLING
Place the trout in a bowl together with egg, ricotta cheese and parsley.
Mix carefully, seasoning with salt and pepper.
STEP 3: STUFF THE DISCS
Unroll the puff pastry and using a circular mold (or simply an overturned glass) make some circles.
Fill half of the circles with 1-2 tablespoons of the filling (I recommend leaving ½ cm of the outer edge free, and brush it with water).
Overlap another disc of dough and using a fork press all around to close the medallion.
Now brush the surface of the medallions with a beaten egg yolk + water and salt.
STEP 4: COOK THE MEDALLIONS
Bake the medallions in preheated oven at 220 ° C for about 15 minutes.
STEP 5: MAKE THE TOMATO SAUCE
While the medallions are cooking, cook the sauce.
Place chopped vegetables and oil in a non-stick pan and brown for 2-3 minutes.
Add cherry tomatoes with their juice and the basil leaves.
Crush the cherry tomatoes coarsely with a fork and cook for about 15 minutes, adding salt.
STEP 6: SERVE
Serve the medallion by placing a couple of tablespoons of sauce on the bottom of the plate and placing the pastry on top.
#getBready & enjoy your meal
Share on: