When I cook aubergines I always think about Sicily, its beautiful blue sea and the scent of its delicious dishes.
I still have in my eyes the images of the port, the fishing one, where among piles of nets, anchors and meowing kittens looking for cuddles (yes I know they were looking for food but I'm romantic!), fresh caught fish was sold.
So was born the idea of ​​this savory pie decorated with a crunchy chain of shortcrust pastry in honor of the sea, excellent eaten at home, but above all ideal to take to a nice picnic on the beach or why not on the boat.
Ready to set sail?
MAKES 24 cm ROUND PIE
READY IN 55'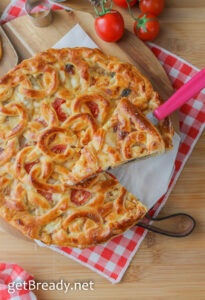 INGREDIENTS:
1 eggplant (better round)
Frying oil to taste
2 eggs
2 tablespoons Parmigiano cheese
Salt and pepper to taste
3-4 diced cherry tomatoes
1,7 oz diced smoked cheese
2,8 oz tuna in drained oil
Oregano to taste
Flour as needed
1 roll shortcrust pastry (I used Stuffer)
1 roll shortcrust pastry (I used Stuffer)
3-4 cherry tomatoes
Oil and salt to taste
1 egg yolk
1 pinch salt
STEP 1: FRY
Cut the eggplant into cubes.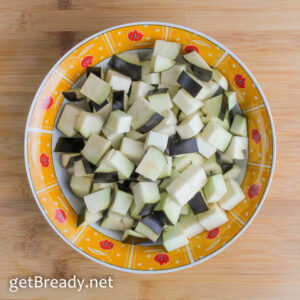 Fry in deep oil until golden, then drain the cubes and place them in a bowl on kitchen paper.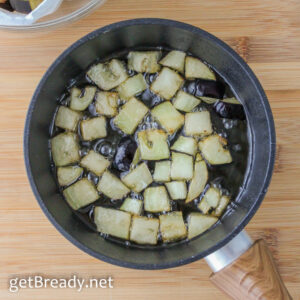 STEP 2: MAKE THE FILLING

Place eggs and Parmigiano cheese in a bowl and season with salt and pepper. Beat with a fork.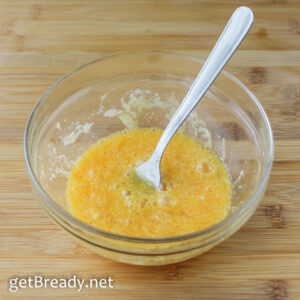 Now add the aubergines (make sure you first dab them a little with kitchen paper), cherry tomatoes, smoked cheese, tuna and oregano.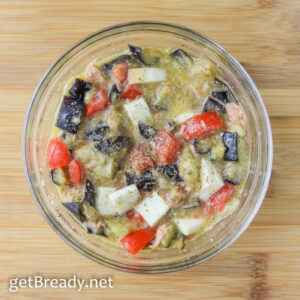 Mix with a fork.
STEP 3: MAKE THE CHAIN

Unroll the shortcrust pastry and sprinkle it both above and below with a bit of flour (in this way you will absorb any moisture which can sometimes make it a bit sticky).
Using two circles (one a little larger and one a little smaller) make some rings (keep the pastry scraps aside).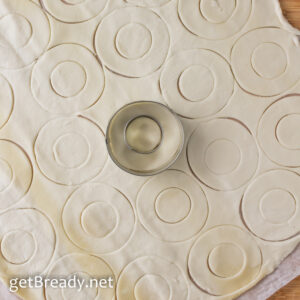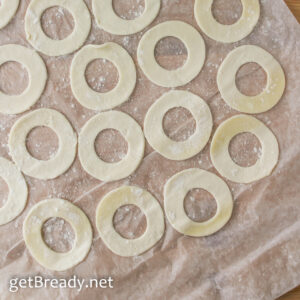 Now make a small cut on each ring,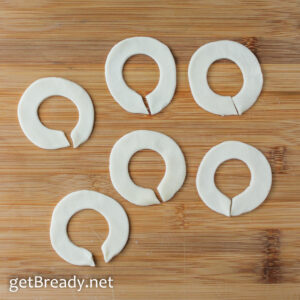 and join them together as you see in the picture.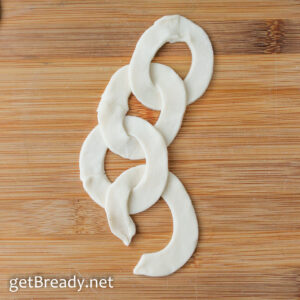 You will have some left over dough, please don't throw it away! Re-knead it on a floured surface, roll it out with a rolling pin and make other rings for your chain.
I recommend: the dough to be easy to work must always be lightly floured and must not heat too much (put the rings in the refrigerator ready while you proceed with the others).
STEP 4: FILL THE CAKE
Unroll the second roll of dough and place it in a circular pan trying to make it adhere to the edges by pressing with your fingers.
Now prick the bottom with a fork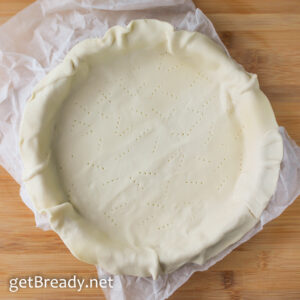 Place the filling prepared in step 2 on the pastry leveling with a fork and add cherry tomatoes cut into rounds and seasoned with oil and salt.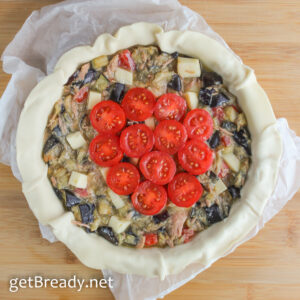 Finally, add the chain from the outside to the inside. If it breaks, don't worry, just fix it by hand.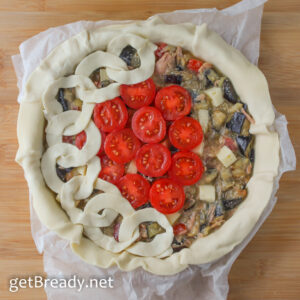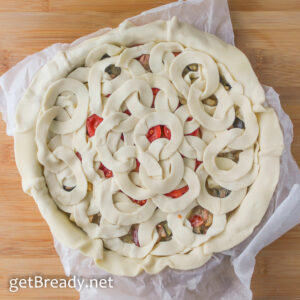 Finally fold the edge of the dough inwards (don't press too much otherwise it will not cook well).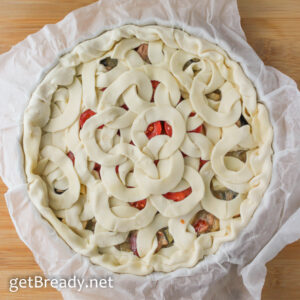 STEP 5: COOK

Brush the chain with beaten egg yolk together with a pinch of salt and bake in a preheated oven at 200-210 ° C for about 40 minutes.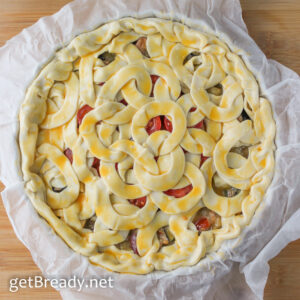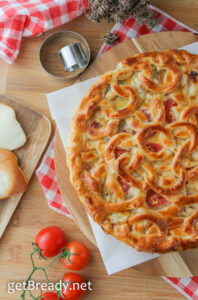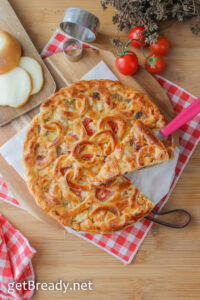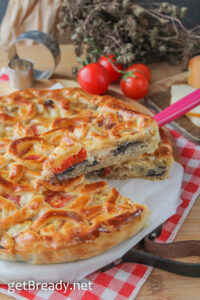 #getBready & enjoy your meal
Share on: