I love a little rustic flavors and you?

    Before falling in love with Christmas cookies (I already know that I will have a lot of trouble getting out ) I'd like something savory!

So: here are the savory biscuits ideal as a snack or to soak in vegetable creams.

Simple simple and so good.
MAKES 20 bites
READY IN 1h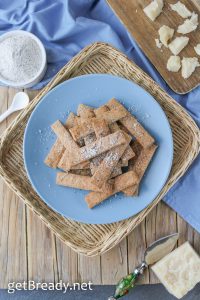 INGREDIENTS:
1,5 oz cold butter
2 oz flour 0
2 oz buckwheat flour
2 tablespoons Grana cheese
2 pinches salt
1 teaspoon poppy seeds
Warm water to taste (very little is enough)
Flour to taste for the pastry board
Salt to taste
STEP 1: MAKE THE DOUGH
In a bowl (by hand or in the mixer), place butter, the two flours, Grana, salt and poppy seeds.
Start kneading trying to crumble the butter with the help of the flour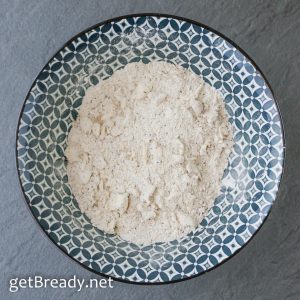 Add water (about 2 tablespoons should be enough) and knead until you get a ball of dough (please try to be quick in this operation so as not to melt the butter).
STEP 2: REST
Wrap the ball in plastic wrap and put it into the fridge for about 30 minutes.
STEP 3: SHAPE THE COOKIES
Remove the dough from the fridge and roll it out with the help of a rolling pin on a floured surface (I made a square of 18x18cm).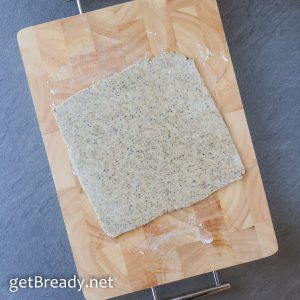 Cut the square into strips and then divide them in half. You will get about 20 pieces.
STEP 4: COOK
Gently transfer the biscuits to a baking tray lined with parchment paper and sprinkle them with salt
Bake the cookies in a preheated oven at 180 ° C for 20 minutes.
I recommend that when they are cooked, do not move them until they are cold or they will break 😉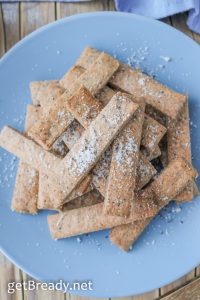 #getBready & enjoy your meal
Share on: