There's a burning issue that comes to my mind every time I make homemade custard (which requires some yolks ….): "What can I do with leftover egg whites???"

Meringues? Sure! but as you know I really prefer savory food.. Listen: I found another greedy way to use egg white: Parmigiano small balls!

Well: only 2 ingredients (or rather 3 if you like adding some pepper like me) and you will have a very tasty appetizer! Of course: if you prefer they can be a second course too, excellent combined with peas or fresh salad.
MAKES 20BITES
READY IN 10′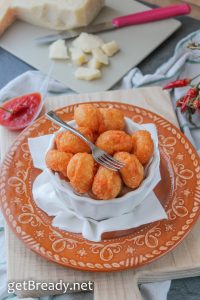 INGREDIENTS:
ab. 7 oz  Parmigiano
2 egg whites
pepper to taste
STEP 1: GRATE PARMIGIANO
Place Parmigiano pieces in a a blender and blend (if you prefer you can do it by hand using a grater too).
STEP 2: COMBINE THE INGREDIENTS

Put the egg whites in a bowl and add cheese. Stir with a fork until the mixture is moldable with your hands.
If the dough is too soft, add more Parmigiano.
If you want you can add a pinch of pepper too.
STEP 3: SHAPE THE SMALL BALLS AND FRY

Take one teaspoon of dough at a time and make a ball in your hands. Dip the meatballs in hot deep oil until golden brown.
Drain the balls and put them on kitchen paper.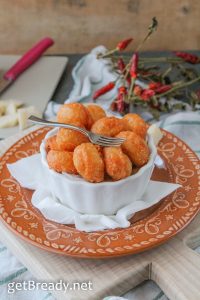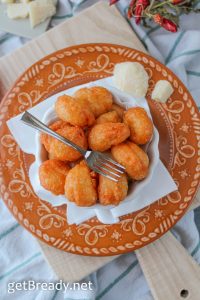 #getBready & enjoy your meal
Share on: