Are you a lemon juice on cutlet lover too? Yup??? Hurray!

it's a habit (maybe a bad one?) I've always had, which I just can't do without …

Well: today with this recipe I 'm telling you how to get tender and juicy cutlets, with the unmistakable touch of lemon, even when cooked in the oven!

No more oil splashes here and there! today we eat with taste but lighter!
MAKES 4 CUTLETS
READY IN 45′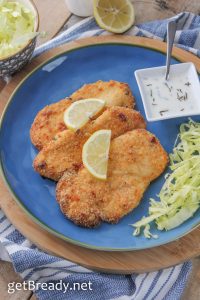 INGREDIENTS:
1 breadcrumbs cup
2 bread slices, chopped
1 tablespoon Parmigiano cheese
parsley chopped to taste
salt and pepper to taste
1 natural yogurt cup
1/2 lemon juice
rosemary to taste
STEP 1: MAKE THE BREADING

Mix in a bowl: breadcrumbs, chopped bread, Parmigiano cheese, parsley salt and pepper.
STEP 2: MAKE THE BATTER

Mix yogurt, lemon juice and rosemary.
STEP 3: BREAD
Place chicken slice into the batter for 10 minutes.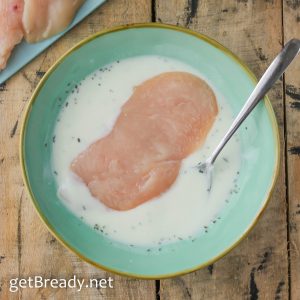 Then place them into breadcrumbs on both sides and press with the palm of your hand.
STEP 4: COOK
Line a baking tray with parchment paper and sprinkle it with oil.
Place chicken slices on it
sprinkle with salt and drizzle with oil.
Cook in preheated oven at 200°C for 30 minutes.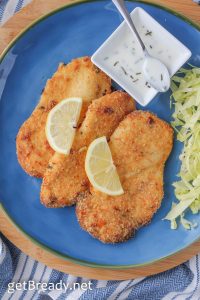 #getBready & enjoy your meal
Share on: