A Sunday lunch classic. "Anelletti" pasta flan is a rich and very tasty first course based on a very small ring-shaped pasta seasoned with a succulent ragù (that is bolognese sauce) and peas and then turned out into a donut mold lined with fried aubergines.

Too much? Oh no because is caciocavallo cheese-filled too!

    Ahahaha! wonderful Sicilian cuisine!
MAKES 1 24 CM DIAMETER MOLD
READY IN 45'
INGREDIENTS:
1 large eggplant
Coarse salt to taste
Flour to taste
Frying oil
2 handfuls fresh or frozen peas
Water and coarse salt to taste
Water and coarse salt to taste
7,7 oz anelletti pasta
1 cup ragù
3 tablespoons caciocavallo cheese
Butter and breadcrumbs to taste
STEP 1: FRY THE AUBERGINES

Wash the aubergines, cut off the ends and slice them lengthwise, obtaining slices about 4 millimeters thick.
Place the slices on top of a clean rag and dust them with just a little bit of coarse salt (this helps the water to come out).
Let them rest for an hour, then rinse and dry them well with kitchen paper (please be careful and dab them well, water is the enemy of hot oil!).
Now lightly flour the aubergines and fry them in hot oil just long enough to brown them, then drain them on kitchen paper.
STEP 2: BOIL THE PEAS
Boil the peas in boiling salted water for about 5 minutes.
STEP 3: COOK ANELLETTI PASTA

In the meantime, cook anelletti in plenty of salted water a couple of minutes less than the cooking time indicated on the package (since they have to be put back in the oven, it is better if they are a little "al dente") and drain.
STEP 4: SEASON PASTA
Place anelletti to a bowl and add a cup of ragù and peas.
STEP 5: COOK THE FLAN
Butter a donut mold, then sprinkle with breadcrumbs and remove the excess.
Now arrange the fried aubergine slices making them adhere to the mold.
Fill halfway with pasta filling, pressing with the spoon to make it stick all over the place.
Now add caciocavallo
and cover with the remaining anelletti.
Fold the aubergines inwards (add a layer on top if needed) and sprinkle the surface with more breadcrumbs.
Cook the pasta flan in preheated oven at 180-190 ° C for 30 minutes. Then take it out of the oven and let it cool before turning it out of the mold.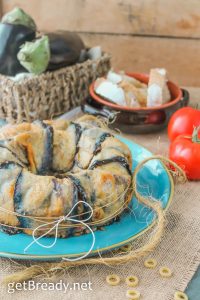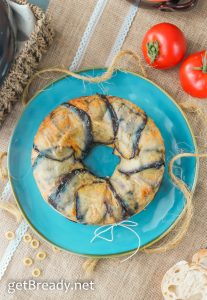 #getBready & enjoy your meal
Share on: