A real taste explosion: cannelloni with pesto sauce (that is a typical Italian basil sauce) and ricotta cheese are a delicious version of a classic of Italian cuisine, ideal for those who don't like meat or for those who want to try something different from the traditional "ricotta and spinach".

This delicious filling, soft and fragrant, is enriched by a velvety béchamel sauce and a sweet cherry tomato sauce.

So, let's make them!
SERVES 4-5 PEOPLE
READY IN 1h
INGREDIENTS:
1 egg
4,4 oz flour
8,8 oz milk
salt to taste
Chopped parsley to taste
1,7 oz butter
1,7 oz flour
17,5 oz cold milk
salt and nutmeg to taste
1 tablespoon chopped celery, carrot and onion
2 tablespoons extra virgin olive oil
1 cherry tomatoes can
3 basil leaves
Salt to taste
8,8 oz Ricotta cheese
1 egg
3 tablespoons Parmigiano
2 tablespoons pesto (click here for the recipe)
Salt and nutmeg to taste
STEP 1: MAKE THE CREPES
Whisk the eggs with all-purpose flour, milk, salt and parsley to get a thick batter (if necessary add a little milk / all-purpose flour to make it more liquid /thicker).
Place a ladle of batter in a hot frying pan and tilt the pan with a circular motion so that the batter coats the surface evenly. Cook the crepe for a couple of minutes on both sides. Do the same with the remaining batter.
STEP 2: MAKE THE BECHAMEL SAUCE
in a non-stick saucepan, melt the butter. Remove from heat and add the flour, stirring with a whisk until you'll get a golden cream.
Put the pan on the fire and add the milk, beating with a whisk to avoid lumps. Add salt and nutmeg to taste.
Carry on cooking over low heat for 10 minutes. If it gets too firm you can add a little milk!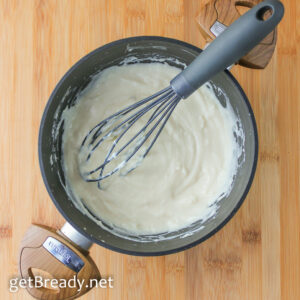 STEP 3: COOK THE TOMATO SAUCE
Place chopped vegetables and oil in a non-stick pan and brown for 2-3 minutes.
Add cherry tomatoes + their juice and the basil leaves.
Crush the cherry tomatoes coarsely with a fork and cook for about 15 minutes, adding salt.
STEP 4: MAKE THE CANNELLONI FILLING
Place ricotta, egg, Parmigiano cheese and pesto in a bowl.
Mix thoroughly by adding salt and nutmeg.
Now add about 3 tablespoons of bechamel to make the filling a little more fluid.
STEP 5: STUFF THE CANNELLONI
Transfer the filling to a pastry bag and squeeze it in the center of each crepe.
And then roll it up
STEP 6: PUT IN THE TRAY
Place a ladle of bechamel sauce on the bottom of the baking sheet, then arrange the cannelloni.
Now add the bechamel, cherry tomato sauce and pesto here and there.
STEP 7: COOK
Cook the cannelloni in a preheated oven at 180 ° C for 20 minutes.
#getBready & enjoy your meal
Share on: