MAKES 12 CANAPÉ
READY IN 15'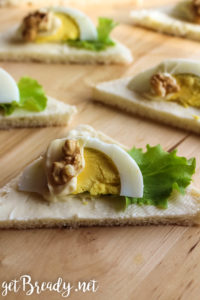 INGREDIENTS
2 eggs
3 cups cold water
6 slices bread
3-4 walnuts
2 tablespoons butter (room temperature)
Lettuce to taste
Mayonnaise to taste
STEP 1: COOK THE EGGS
Put the eggs in a saucepan and cover them with cold water. Set the pan over medium-high heat and as soon as the water reaches a brisk simmer, start timing 12 minutes.
Then shell the eggs and divide each of them into six slices.
STEP 2: PREPARE THE BREAD AND WALNUTS
While waiting, cut each slice of bread to get two triangles.
Then crack the walnuts.
STEP 3:
Spread some butter on the triangles, then place on it a slice of egg, some lettuce, mayonnaise and a little piece of walnut.
#getbBready & enjoy your meal
Share on:
Salva
Salva