A very quick entrée (looks like chef's ones but it's so easy!) for your romantic St Valentine dinner! A crispy asparagus with a tasty saffron sauce…

SERVES 2 PEOPLE
READY IN 20'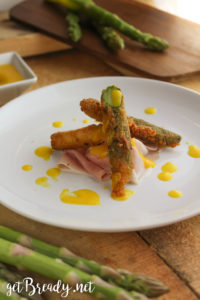 INGREDIENTS
2 asparagus
Water and coarse salt to taste
1 egg white
2-3 tablespoons breadcrumbs
1 tablespoon Parmesan cheese
Salt and pepper to taste
1 teaspoon butter
½ teaspoon saffron
Salt to taste
1 tablespoon all-purpose flour
Frying oil to taste
STEP 1: BOIL THE ASPARAGUS

Peel the bottom of the asparagus, then cook them in boiling salted water for 10-12 minutes. Drain them.
Save 1/2 glass of asparagus boiling water (you'll need it at step 3).
STEP 2: BREAD THE ASPARAGUS

Deep the asparagus in lightly beaten egg white, then in a mixture of  breadcrumbs, Parmesan cheese, salt and pepper.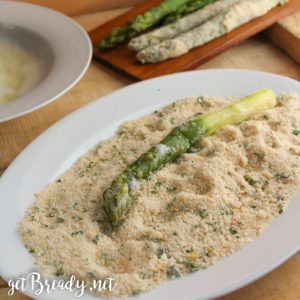 STEP 3: MAKE THE SAFFRON SAUCE
Melt the butter, add the saffron dissolved into the asparagus cooking water.Taste it (if necessary add salt). Add all-purpose flour and cook on low heat for a couple of minutes (it must boil).
STEP 4: FRY!
Cook the asparagus in hot frying oil for a few seconds, then drain them. Cut the asparagus in 3 pieces and place them in a dish with some ham and sprinkle with saffron sauce.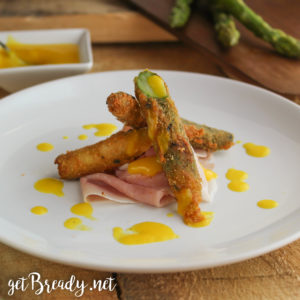 #getBready & enjoy your meal
Share on: