Does it happen to you too?

When I finish work I usually take a look at Pinterest and I always fall in love with a quiche. While coming home I make the list of the ingredients and I proudly say to myself:" Perfect! I have them all!"

At home I start washing, cutting, mixing and blending until I open the fridge and I DRAMMATICALLY realize that the puff pastry isn't still there… I used it two night ago!!!

After that you can:

cry all dinner time
learn how to make my delicious shortcrust! Easy and quick to prepare and healthy and tasty!!

 
MAKES 1 DOUGH BALL
READY IN 1h 10′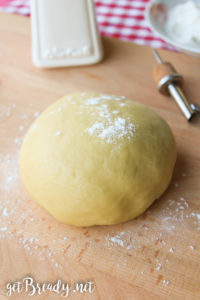 INGREDIENTS
2 cups all-purpose flour
2 oz cold butter
2 oz extra virgin olive oil
2 pinches salt
9  tablespoons cold water
STEP 1: MIX THE INGREDIENTS
Put the flour, salt, butter, oil and water in a mixer and mix.
STEP 2: KNEAD BY HAND
Transfer the mixture on the pastry board and  knead it by hand but quickly, so that the dough doesn't get greasy.
STEP 3: LET THE DOUGH REST
Wrap the dough in clingfilm and put it into the fridge for 1 hour.
STEP 4: BAKE
Remove the dough from the fridge, roll it out using baking paper and a rolling pin.
Cook for 16-17 minutes for small molds or about 40 minutes for a normal circular baking pan in preheated oven at 180 °C.
#getBready & enjoy your meal
 Share on: