Puff pastry is one of my favorite ingredients. I made everything with it! Today I'm preparing something new using it and fish: a zucchini and puff pastry crust trout.  Very easy to make and delicious!
SERVES 2 PEOPLE
READY IN 20'
INGREDIENTS
2 trout filets
2 tablespoons extra virgin olive oil
Salt  to taste
1/2 lemon (juice)
Sage and rosemary to taste
1 puff pastry sheet (I used Stuffer)
1 sliced zucchini
1 beaten egg
STEP 1: MARINATE FISH

If necessary, remove the fishbones from the filets, then place them on parchment paper and massage them with oil, salt, lemon juice, sage and rosemary.
STEP 2: GRILL
Place the filets on a hot George foreman grill and cook for a couple of minutes (on both sides). Now it's very easy to remove the fish skin.
STEP 3: ADD ZUCCHINI

Cut the puff pastry in half to get to rectangles. Place each filet on a rectangle, then cover them with sliced zucchini.
STEP 4: WRAP IT IN PUFF PASTRY
Carve the puff pastry with a knife on the side, then cover the filets with the strips. Drizzle the surface with beaten egg.
STEP 5: COOK
Cook the filets in preheated oven at 250°C for 10-12 minutes.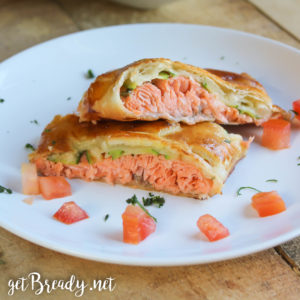 CONSIGLIO: puoi servire il filetto intero, oppure tagliarlo a fettine ed accompagnarlo con un contorno a di purè o con una dadolata di pomodoro fresco.
#getBready & enjoy your meal
Share on: