Tomato and mozzarella is a match made in hell, but also this filling is delicious! Soft Bufala mozzarella, zucchini, cherry tomatoes and fresh salmon with mint, Tasty!
SERVES 4 PEOPLE
READY IN 1 h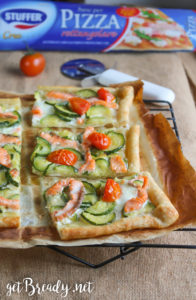 INGREDIENTS
1 salmon slice
2 tablespoons extra virgin olive oil
salt and pepper to taste
2 tablespoons lemon juice
6 mint leaves, sliced
2 zucchini
2 tablespoons extra virgin olive oil
1 teaspoon onion, chopped
salt to taste
1 pizza dough sheet (I used Stuffer)
oil to taste
1 Bufala mozzarella
ab. 10 cherry tomatoes
salt to taste
STEP 1: MARINATE SALMON

Place the salmon slice into a bowl and add: oil, salt, pepper, lemon juice and mint leaves. Cover the bowl with cling film  and let it rest into the fridge for 30 minutes (or more).
STEP 2: COOK THE ZUCCHINI

Slice zucchini and cook them in pan with oil, onion and salt ( it takes about 10 minutes covered with a lid).
STEP 4: FILL THE PIZZA

Unroll the pizza dough sheet and brush it with oil. Fill the pizza with zucchini, Bufala mozzarella cubes and cherry tomatoes (cut in half). Season with salt and oil.
STEP 5: COOK
Cook pizza in preheated oven at 220°C for 10 minutes, then add marinade salmon slices and cook for other 5 minutes.
#getBready & enjoy your meal
Share on: