Genuine ingredients are the secret of this recipe to make a healthy second course dish.  If you are looking for a way to make your children eat vegetables this is a great idea to do it!
MAKES ab. 16 BITES
READY IN 1h 10'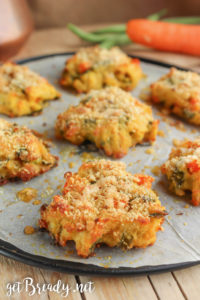 INGREDIENTS
2 potatoes
1 cup rice
Water and coarse salt to taste
2 carrots
Ab. 15-20 green beans
2 zucchini
Water to taste
3 tablespoons extra virgin olive oil
1 teaspoon onion, chopped
Salt to taste
2 eggs
3 tablespoons grateable cheese
1 tablespoon water + 1 pinch saffron
5 tablespoons breadcrumbs
Pepper to taste
Extra virgin olive oil to taste
Breadcrumbs to taste
STEP 1: BOIL POTATOES AND RICE
Deep peeled potatoes cubes and rice in salted hot water and let them cook for about 15-20 minutes. Then drain and place them in a bowl Mash the ingredients with a fork.
STEP 2: COOK THE OTHER VEGETABLES
Peel and cut carrots into cubes, the cut green beans and zucchini of the same size. Deep carrots and green beans in hot water and cook for 5 minutes, the drain and place them in a pan with oil, onion and zucchini cubes. Add salt and cook for about 10 minutes.
STEP 3: MIX THE INGREDIENTS
Put vegetables into the bowl where you put rice and potatoes; add eggs, cheese, water + saffron, breadcrumbs and pepper.
STEP 4: SHAPE
Place a baking paper sheet on a baking tray and brush with oil. Place tablespoons of mixture on it to get the balls. Make them flat with a fork and sprinkle with breadcrumbs and cheese. (to get a delicious crust!).
STEP 5: COOK
Sprinkle the veggie balls with oil and cook in preheated oven at 180°C for 30 minutes, then turn up to 250°C for a couple of minutes.
A PIECE OF ADVICE: to make delicious veggie balls make sure to cook rice until soft!(softer than a risotto recipe)
#getBready & enjoy your meal
Share on: