If you've known me from more than 20 seconds you know that I really love baking, especially bread and pizzas. I'm not the only one for sure! This is the reason why today I like sharing a new pizza version: Parmigiana-inspired.  Cherry tomatoes, ham, mozzarella, aubergine, basil and the traditional salted Ricotta.

SERVES 4 PEOPLE
READY IN 14h  (or less)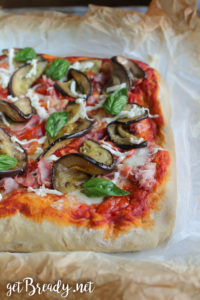 INGREDIENTS
1 lb all-purpose flour
½ oz salt
1 cup warm water
½ oz  brewer's yeast  dissolved into 2 tablespoons warm water
2 tablespoons extra virgin olive oil
All-purpose flour to taste
10-12 cherry tomatoes
2 mozzarellas
1 aubergine + oil to taste
extra virgin olive oil to taste
1 cup mashed tomatoes
4 slices ham
salt and oil to taste
Salted Ricotta cheese to taste
basil leaves to taste
STEP 1: MAKE THE DOUGH

In a bowl, place the flour, the salt and ¾ cup warm water.Mix with a fork. Add the brewer's yeast  dissolved into 2 tablespoons warm water, the oil and the remaining water until you get a wet mixture. Sprinkle the dough with all-purpose flour, place in in a bowl, cover the bowl with cling film and put it into the fridge all night long.
STEP 2: REMOVE THE DOUGH FROM THE FRIDGE
3-4 hours before using, remove the bowl from the fridge and let it stand at room temperature (for 3 or 4 hours).
In the meantime:
cut cherry tomatoes in 4 parts
slice mozzarella
slice aubergine, spread oil on each slice and cook them for 2 minutes on a hot grill
STEP 3: ROLL OUT THE DOUGH

Place some oil in a rectangular baking tin, then place the dough in it pressing with fingers.
STEP 4: FILL
Spread mash tomatoes on the dough, then add cherry tomatoes, ham, aubergine and mozzarella. Season with salt and oil.
STEP 5: COOK
Cook pizza in preheated oven at 250°C for ab. 20 minutes.
STEP 6: AT LAST

Sprinkle pizza with salted Ricotta and basil leaves.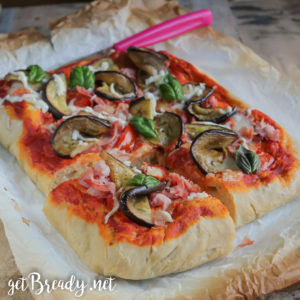 CONSIGLIO: I prefer long leavening, but if you have non time you can add more yeast and let the dough rising for only two hours.
#getBready & enjouy your meal
Share on: