Where I live, in particular where I was born, there's a traditional dish made of cornmeal and potato.  It's a soft corn mush, very tasty and rich in flavour thanks to  butter, cheese and onion. Here is the recipe to cook it at home for a different lunch. I'm sure you'll love it!

SERVES 4 PEOPLE
READY IN 40′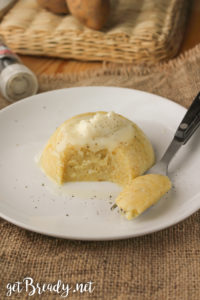 INGREDIENTS
3 lb potatoes
water and coarse salt to taste
4 tablespoons corn flour
2 tablespoons all-purpose flour
1/2 onion
2 tablespoons butter
1/2 glass olive oil
7 oz cheese (I used Spressa and Asiago, cubed)
2 tablespoons Grana Cheese
pepper to taste
Gorgonzola cheese to taste
pepper to taste
STEP 1: COOK POTATOES

Cook (peeled and cubed) potatoes in boiling salted water for about 10 minutes). Use a large non-stick pan.
STEP 2: MASH POTATOES

Remove the water from the pan (put it aside). Mash potatoes directly into the pan, then add only 1 cup cooking water.
STEP 3: ADD FLOUR

Add corn and all-purpose flour and whisk with a wooden spoon, then carry on cooking for about 15 minutes.
STEP 4: ADD ONION

Slice finely onion, then let it sautè with oil and butter. When golden, add it to the pan and mix with the wooden spoon.
STEP 5: ADD CHEESE

Add, little by little, cubed cheese, then Grana cheese and pepper.
STEP 6: SERVE
I like serving polenta with a spoon of Gorgonzola cheese and peper.
#getBready & enjoy your meal
Share on: