Happy Cinnamon Bun Day! Today I celebrate this delicious happening with a tasty homemade recipe.

Cinnamon, cocoa and hazelnut will carry you into a dream, thanks to a fluffy dough and an irresistible flavour. Don't miss the chance to try them.
MAKES 10 BUNS
READY IN 3h 20′
INGREDIENTS:
¾ glass lukewarm milk + 1 teaspoon brewer's yeast
10 oz all-purpose flour
1 egg
2 +1/2 oz sugar
2 oz butter
1 teaspoon cinnamon powder
all-purpose flour to taste
2 tablespoons butter (soft)
2 tablespoons brown sugar
1 tablespoon cinnamon powder
1 tablespoon cocoa
Hazelnut, chopped to taste
7 oz icing sugar
water to taste
Hazelnut, chopped to taste
STEP 1: MAKE THE DOUGH

You can decide to knead by hand or to use a kneading machine, as you prefer.
Place into the bowl brewer's yeast dissolved into milk and add – little by little – all-urpose flour, egg, sugar, butter and cinnamon. Knead well until smooth.
STEP 2: LET THE DOUGH RISE

Cover the bowl with clingfilm and let it rise at room temperature for at least 2 hours. I prefer putting the bowl into the fridge all night long.
STEP 3: FILL
Roll out the dough on a lightly floured pastryboard to get a 1/2 cm thin rectangle. Spread on the rectangle the butter, then add sugar, cinnamon powder, cocoa and hazelnuts.
STEP 4:ROLL AND CUT

Roll the rectangle up, then slice it 2 cm thin.
STEP 5: LET IT RISE

Place the rolls on a parchment paper sheet and let them rise for about 30 min into the oven (OFF!).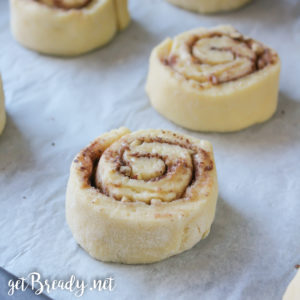 STEP 6: COOK
Cook the rolls in preheated oven at 180°C for about 15-20 minutes.
STEP 7: ADD THE ICING

Mix icing sugar + water to get a fluid as thick as necessary. Using a spoon brush the bund with the icing.
#getBready  & enjoy your meal
Share on: