I know it takes a little time to be preparred, but if you try it once I'm sure you'll never buy packaged ravioli anymore! So delicious, even children love it because of the delicate taste.

Another advantage? You can make Ravioli when you're up to and then freeze to have ready to cook ravioli when you want!

SERVES 5-6 PEOPLE
READY IN 1h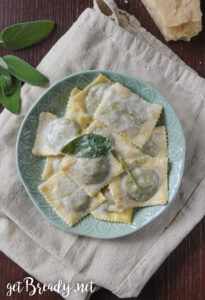 INGREDIENTS
4-5 spinanch cubes, frozen
Water and coarse salt to taste
1 teaspoon butter
9 oz Ricotta cheese
1 egg
2 tablespoons Parmesan cheese
Salt, pepper and nutmeg to taste
2 cups all-purpose flour
3 eggs
All-purpose flour and durum wheat flour to taste
2-3 US quart water
1 tablespoon  coking salt
1 tabelspoon butter
2-3 sage leaves
2-3 tabelspoons cooking cream
2 tablespoons Parmesan cheese
STEP 1: MAKE THE FILLING

Boil spinach in hot salted water for 1o minutes, then drain them and place then in a pan with butter. Cook for a couple of minutes.
In a bowl place: Ricotta cheese, egg, Parmesan cheese, cooked spinach, salt, pepper and nutmeg. Mix carefully.
STEP 2 MAKE FRESH PASTA

Place the flour on the pastry board, make a well in the centre and crack the eggs into it. Beat the eggs with a fork until smooth, mixing them with flour until combined. Knead the dough by hand  until smooth and silky (about 15 min.). Let it stand for 15-20 minutes wrapped in cling film.
STEP 4: MAKE RAVIOLI

Dust the pastry board with a bit of all-purpose flour. Cut dough into quarters and with the help of a pasta machine (or with a rolling pin), roll out each of them until very thin.
You can decide to make ravioli:
by hand: place teaspoons of filling at regular distance on the first pasta sheet, then cover with another pasta sheet and press well all around the filling. Now cut squaresaround the filling to make Ravioli;
with ravioli mold: place the first pasta sheet on the mold. Fill the holes with the filling and cover with a second pasta sheet. Now use the rolling pin back and forth to cut the Ravioli.
STEP 5: COOK
Cook Ravioli in salted boiling water for about  5-7 minutes.
STEP 6: ADD THE SAUCE

Place cooked Ravioli in a pan with melted butter + sage leaves. Add cream, Parmesan cheese and mix carefully.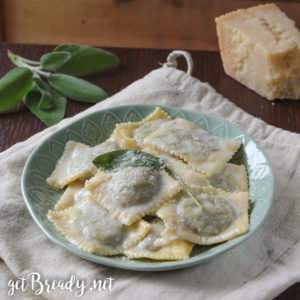 #getBready & enjoy your meal
Share on: