I admit: the original recipe needs a homemade crust! I could say that this is a smart and quick version to make a fragrant strudel in no time. Don't worry if friends come home without a call: you only need two apples and a puff pastry sheet to make everyone happy!

MAKES 1 strudel
READY IN 25′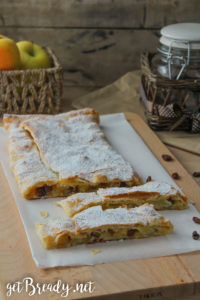 INGREDIENTS
2 apples
2 tablespoons sugar
1/2 lemon juice
2 tablespoons raisin
1 puff pastry sheet, rectangular
1 egg yolk + 1 tablespoon water, mixed
confecioner's sugar to taste
STEP 1: MAKE THE FILLING

Peel and slice the apples (2-3 mm thin). Place sliced apples in a bowl with sugar, lemon juice and raisin.
STEP 2: ROLL THE PASTRY

Place the puff pastry sheet on a lightly floured pastry board and roll it out with a rolling pin to make it thinner.
STEP  3: FILL AND CLOSE

Immagine to divide the pastry into three stripes. Place the filling in the centre and cover it with the two other stripes. Press well the borders with your fingers.
STEP 4: BRUSH AND COOK

Place the strudel on a parchment paper sheet, brush it with egg yolk + water mixture and cook in preheated oven at 200°C for about 15-18 minutes.
When cold you can add confectioner's sugar.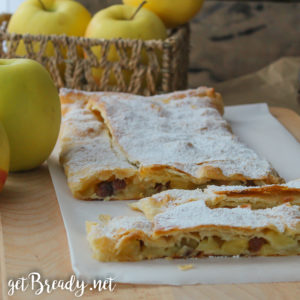 #getBready & enjoy your meal
Share on: