Happy birthday getBready!

Two years ago I posted for the first time one of my food pic, it was a roast and I confess the picture I took wasn't so good… 🙂 .


When I started my blog I was coming off a period of change,  an own project was what I really needed.


Since then almost every day I spend some of my free time working for the blog: taking pictures, cooking, writing recipes and guessing a correct English translation 🙂


Today I want to celebrate getBready because is what helped me focus my way and my ambition.
How to do it? With a very special cake: the rose cake!
MAKES 1 CAKE
READY IN 1,5 days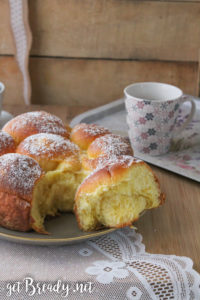 INGREDIENTS
10 oz flour 0
3 eggs
1/2 oz brewer's yeast + 2 tbs milk
1 pinch salt
2 1/2 oz sugar
2 teaspoons orange zest
1 pinch vanilla extract
3 oz butter at room temperature
All-purpose flour for thre pastry board
2 oz butter at room temperature
1 teaspoon orange zest
STEP 1: MAKE THE DOUGH THE DAY BEFORE

Using a kneading machine mix: flour, eggs and yeast dissolved into milk. Add little by little salt, sugar, orange yeast and vanilla. Finally add butter.
STEP 2: LET IT RISE

Cover the bowl with clingfilm and put it into the fridge all night long. The day after remove the bowl from the fridge 1 hour before step 3.
STEP 3: FOLD THE DOUGH

Sprinkle the pastryboard with all-purpose flour, then roll out the dough using a rolling pin 1,5 cm thin.
In a small bowl mix butter + orange zest until soft. Now imagine to divide the dough into three stripes and spread the butter mixture on the central and the right column.
Place the left side of the dough on the central one.
Now place the right side of the dough on the central one.
Wrap the dough in clingfilm and place it into the fridge for 15 minutes.
Repeat step 3 for 2 more times (roll out the dough, fold it and place it into the fridge). When finished let it rest for 1 hour into the fridge.
STEP 4: WRAP AND CUT

Remove the dough from the fridge and roll it out to make a rectangle 1,5 cm thin.
Wrap the dough and the cut 7 pieces.
STEP 5: LET IT RISE

Brush a baking tin with butter and sprinkle with flour. Now place the 7 dough piece into it and let rise for 4 hourse into the oven OFF.
STEP 6: COOK
Cook the cake in preheated oven at 160° for 40 minutes. If necessary cover the surface with an alluminium sheet.
#getBready & enjoy your meal
Share on: