Two keywords: soft and crumbly.

I didn't know savory plumcake and the fisrt time I decided to try it it was an incredible surprise! It's easy and quick like an usual sweet cake but delicuois like savory recipes, the ones I really prefer.

You can make it in thousand different ways, with vegetables,meat, fish.. This time I chose arugula and cheese.

Ideal for work snack, pic-nic and even for lunch on the beach!

MAKES 1 PLUMCAKE
READY IN 55'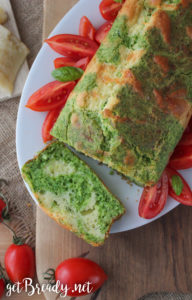 INGREDIENTS
2 eggs
1 cup milk
1/4 cup extra virgin olive oil
7 oz all-purpose flour + 1 teaspoon instant dry yeast
2 pinch salt
4 tablespoons grated cheese (I used Vezzena)
3,5 oz arugola (rocket)
1 tablespoon extra virgin olive oil
1 tablespoon Parmesan cheese
Butter and all-purpose flout to taste
STEP 1: MAKE THE MIXTURE

In a bowl beat eggs with milk and oil. Add, little by little, all-purpose floutr + yeast and salt. Finally add Vezzena cheese and mix with a wooden spoon.
STEP 2: BLEND ARUGOLA

Blend Arugula with 1 tablespoon of oil and Parmesan cheese.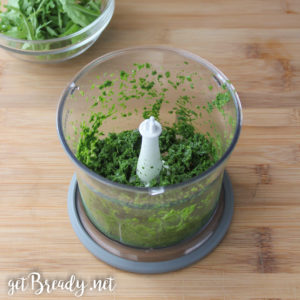 STEP 3: COMBINE

Divide the mixture prepared on step 1 into two bowls and add minced arugola to one of them to make it green.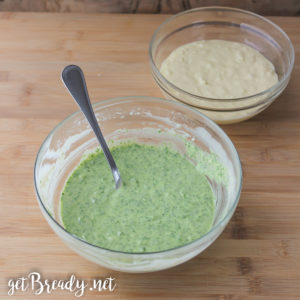 STEP 4: INTO THE LOAF PAN

Grease and flour a loaf pan. Now fill it with spoonfuls of plumcake mixture alternating the two colors.
With a toothpick you can also draw  "8" number to mix .
STEP 5: COOK
Cook the plumcake in preheated oven at 180°C for 40 minutes.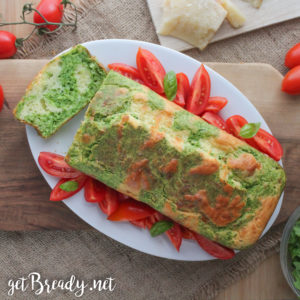 #getBready & enjoy your meal
Share on: