Here's  to people who doesn't matter because  "it's kid stuff" or that who fears aging! In my opinion birthday  is sacred and I like celebrating with everyone. Every year the real problem is the same: how to cook someting good, nice but even easy to carry everywhere I'd like to celebrate?

Mmmm…  For my 2019 +34  this is my answer: chocolate, coconut and caramel in lovely bites!

 
MAKES 50 – 60 BITES
READY IN 40'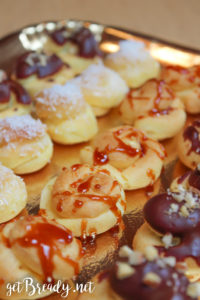 INGREDIENTS
1½ glass water
12 oz cold butter, cubed
1 pinch of salt
12 oz all-purpose flour
5 tablespoons milk
2 eggs
1 pinch vanilla extract
1 pinch sugar
Butter to taste (for baking tray)
½ tavoletta di cioccolato fondente
1 noce di burro
1 bowl custard (here the recipe)
1white chocolate bar
1 dark chocolate bar
3 tablespoons icing sugar
1 tablespoon water
Coconut flour to taste
½ dark chocolate bar
1 tablespoon butter
chopped hazelnuts to taste
6 oz sugar
2,5 oz water
STEP 1: MAKE THE PASTRY
Combine the water, butter and salt in a pot and bring to the boil. Add the flour and stir continuously until the dough comes away from the sides of the pot. Transfer the mixture into a mixer adding little by little, the milk, the eggs, vanilla extract and sugar.
Spoon the dough into a piping bag and pipe small mounds onto a greased baking tray, about 2cm apart.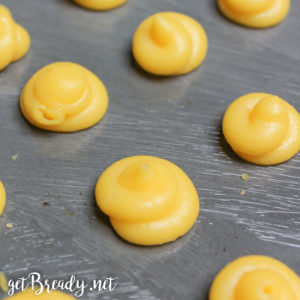 Cook for 12 minutes in preheated oven at 210°C.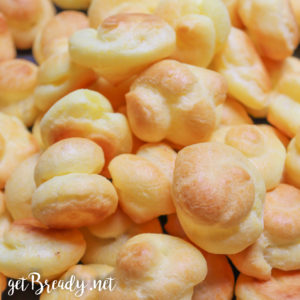 STEP 2: MAKE THE FILLING
Divide the custard into three different small bowls.
Add to the first one white chocolate (melted);
Add to the second one dark chocolate (melted).
STEP 3: STUFF THE BIGNE'
Place the three creams into three different pastry bags. Make a hole on the bottom of the bignè and fill them with the creams.
STEP 4: MAKE THE TOPPING
– FOR COCONUT & WHITE CHOCOLATE BIGNE:
In a small bowl mix icing sugar and water. Dip the bignè top into the topping, then sprinkle with coconut;
–  FOR DARK CHOCOLATE BIGNÈ
Melt chocolate with butter, then dip the top of the bignè in it;
– FOR CARAMEL BIGNÈ
Melt sugar in water and cook it until it boils getting golden. Dip a teaspoon into the caramel and spread it on bigne.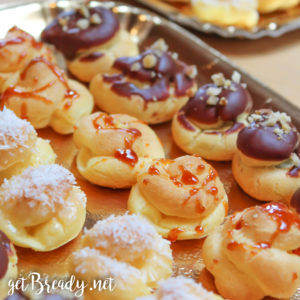 #getBready & enjoy your meal
Share on: