The green spiral? Sure, you can do it by yourself at home! It's easy, tasty and healthy! If you cook homemade food you take care of your health because you really know what you eat!  This meatloaf is delicious and very practical: you can cook it in advance and reheat at dinner time!
SERVES 4 PEOPLE
READY IN 1h 10′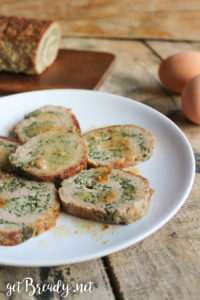 INGREDIENTS
3 oz spinach
water and coarse salt to taste
1 teaspoon butter
12 oz ground meat
1 egg
2 tablespoons Parmesan cheese
2 tablespoons breadcrumbs
Salt and peper to taste
All-purpose flour to taste
2 tablespoon extra virgin olive oil
1 teaspoon butter
2 sage leaves
STEP 1: BOIL THE SPINACH

Boil the spinach in salted hot water for about 10 minutes, then drain them and let them sautè in a skillet with butter for a couple of minutes.
STEP 2: MIX THE MEATLOAF INGREDIENTS
In a bowl mix the ground meat, the egg, the Parmesan cheese, breadcrumbs, salt and pepper. Place half mixture in another bowl and add the spinach. Mix carefully.
Now you have the two meat mixture!
STEP 3: SHAPE THE MEATLOAF

Place the first meat mixture on a parchment paper sheet and mash it with a fork. Then place the second meat mixture (that one with spinach) on it and mash it with a fork. Cover with another parchment paper sheet and roll out with a rolling pin to get a rectangle. Now remove the parchment sheet and wrap the meat to shape the meatloaf.
STEP 4: COOK IN THE PAN

Sprinkle the meatloaf with all-purpose flour, then let it sautè for a few minutes in a skillet with oil, butter and sage leaves.
STEP 5 : BAKE

Remove the meatloaf from the skillet to a baking tin (covered with parchment papaer), add the cooking liquid/juice and cook in preheated oven at 180° for 50 minutes.
#getBready & enjoy your meal
Share on: