Curious encounters are happening to me…

I must confess, recently on the way to the office I always meet him …

There's a game of looking but every time  I look the other way pretending not to see him .

Last time, I confess, I gave in: because I know you look so hard outside but I really wanted to know how you look inside too and tanks to our weekly encounter finally I discovered  how  delicious is you heart my dear celeriac.

Delicious yes, with saffron and hazelnuts!

#mybelovedfarmersmarket
SERVES 4 PEOPLE
READY IN 35 '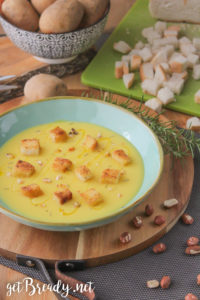 INGREDIENTS:
1 celeriac (about 35 oz)
2 potatoes
½ red onion
2 tablespoons extra virgin olive oil
¼ glass white wine, dry
1 US quart vegetable broth
1teaspoon saffron + 2 tablespoons water
salt to taste
1bread loaf
1 tablespoon extra virgin olive oil
1 teaspoon butter
1 teaspoon chopped rosemary
1 tablespoon chopped hazelnuts
hot water to taste
oil to taste
STEP 1: CUT VEGETABLES
Peel the the celeriac (cut off the hardest ) then wash it and cut it into cubes.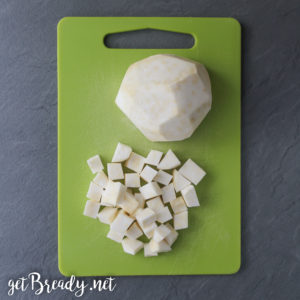 Do the same with potatoes.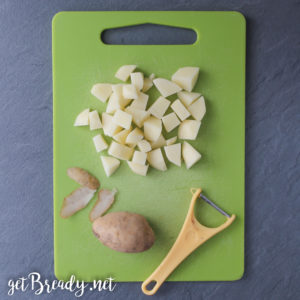 STEP 2: COOK
Gently fry the onion in  oil until golden.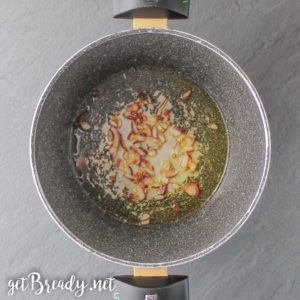 Now add the celeriac and potato cubes, mix thoroughly and cook for 1 minute.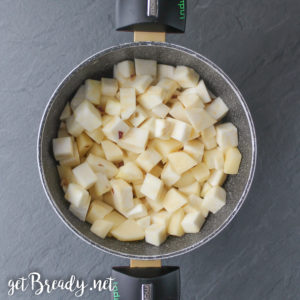 Simmer with wine on high heat. Now add broth, cover with a lid and cook for about half an hour.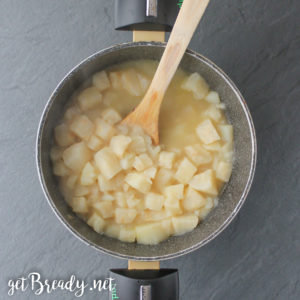 10 minutes before turning the heat off, add the saffron dissolved in two tablespoons of water and add salt if necessary.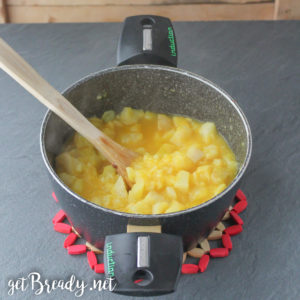 STEP 3: MAKE THECROUTONS
While the cream is cooking, make the croutons.
Cut the bread into cubes, put it in a non-stick pan with oil, butter, rosemary and chopped hazelnuts and cook for a couple of minutes.
STEP 4: BLEND
Blend the softened vegetables with an immersion blender.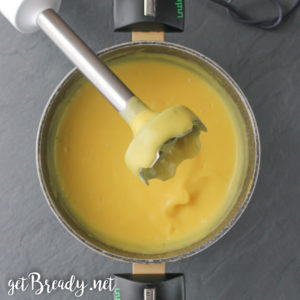 If the cream is too thick, add a ladle of hot water.
Serve with a drizzle of oil and crunchy croutons.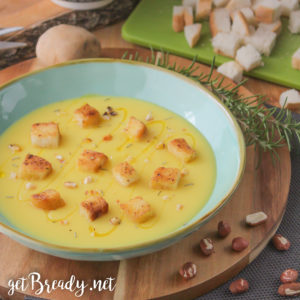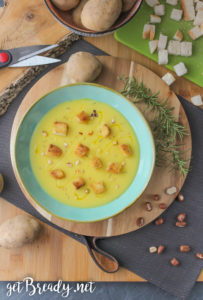 #getBready & enjoy your meal
Share on: