In Italy people say that "3" is the perfect number … if it's true or not I don't know, but I'm certainly celebrating the birthday!

Today, May 3rd of a leap 2020, pandemic and above all exceptional because even my unsuspected half ventured into the kitchen, the blog is in its third year.

I want to celebrate this milestone with all of you and say thank you because if you weren't there it wouldn't make sense to write other pages of this virtual cookbook.

Thanks to those who give me a good morning, those who peek at the recipes on the blog, those who reply, perhaps adapting them a bit, those who write to me for some advice or to warn me of some "horror" of typing in the texts.

You are precious!

… As tradition let's bake a top recipe for birthday!

Ideal when lockdown will be over and we could finally celebrate together: soft buffet bread!
MAKES 2 NUMBERS
READY IN 2h 45 '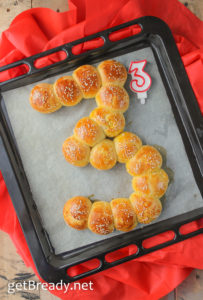 INGREDIENTS:
¾ of fresh brewer's yeast cube
8,8 oz lukewarm milk
1 teaspoon sugar
10,5 oz flour "0"
9 oz flour "00"
3,5 oz butter at room temperature
1 whole egg + 1 yolk
Salt to taste
1 egg yolk
1 teaspoon water
1 pinch salt
Sesame seeds to taste
STEP 1: MAKE THE DOUGH
Melt the yeast in lukewarm milk together with sugar. Mix until completely dissolved.
Place milk, the two type of flour, butter (cubed), eggs and salt in the mixer bowl (or in a large bowl if you knead by hand).
Start the mixer until you'll get a rather smooth ball (it will take about 10 minutes). Of course, you can also knead the ingredients by hand if you don't have a mixer!
STEP 2: LET REST
Cover the dough bowl with cling film and let rest at room temperature for a couple of hours.
STEP 3: MAKE THE BALLS
Divide the leavened dough into about 16 + 16 morsels (if you want an approximate indication, they weigh about 1 oz each) and ball them up.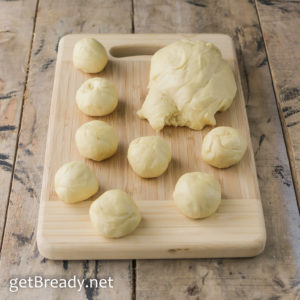 STEP 4: LET REST AGAIN
Arrange the balls (slightly spacing them from each other) in a baking tray lined with parchment paper, in this case I decided to form the number 3 (with the doses of the recipe you'll get 2 numbers).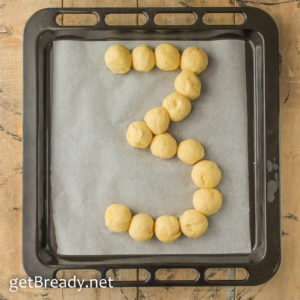 Brush the balls with the beaten egg yolk with a pinch of salt and let rise at room temperature for 1 hour.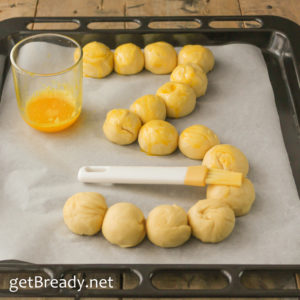 STEP 5: COOK
Very gently brush the leavened balls again with the beaten egg yolk and sprinkle with sesame seeds.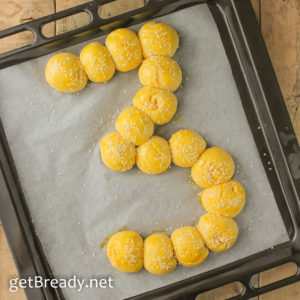 Bake the bread in a preheated oven at 180 ° C for about 25 minutes.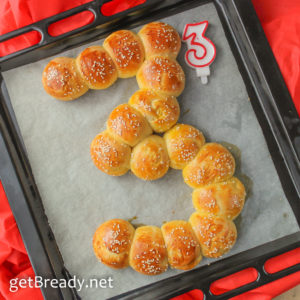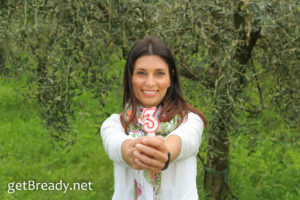 #getBready & enjoy your meal
Share on: