Today I am really satisfied! I'm revealing you a very reliable recipe that will make you have a fluffy and fragrant focaccia in one morning!

For real!

I usually prefer long leavening, but this time I admit that this is a very very smart solution to get a delicious focaccia in only 3 hours!!! That's incredible!

Light, soft and full of holes in the center, while slightly crunchy on the bottom (I could not resist and I took a picture of the bottom too!)

Just one tip: do it as soon as possible!
MAKES 1 28/30 cm diameter pan
READY IN 3h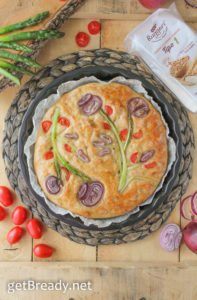 INGREDIENTS:
10,5 oz lukewarm water
1 teaspoon sugar
0,3 oz fresh brewer's yeast
3 pinches salt
14,5 oz Ruggeri tipo 1 flour
3 asparagus
4-5- cherry tomatoes
1 onion
salt to taste
extra virgin olive oil
½ glass water + oil + salt mixture
STEP 1: MAKE THE DOUGH
Place water in a bowl, add sugar and yeast and mix with a fork to dissolve them.
Combine salt and flour, then add it – little by little- to the bowl.
Mix with a spatula (you'll get a wet and sticky dough).
STEP 2: LEAVENING
Cover the bowl with clingfilm and rest the dough at room temperature for a couple of hours.
This is what you'll get:
STEP 3: SLICE VEGETABLES
While the dough rises, wash tomatoes and slice them.
Rinse the asparagus and with the potato peeler remove the hardest part at the base, then cut them into thin strips.
Peel the onion and cut it into slices.
STEP 4: PLACE INTO THE BAKING TRAY
Soak a parchment paper sheet in water, then wring out and place it on a baking tin.
Place the dough on it
and press with finger to make holes (it's easier if you work with wet hands)
Now enjoy drawing flowers with vegetables.
I used asparagus to create the stem, cherry tomatoes to create buds and onions for the real flowers.
Remember to lightly press the vegetables in the dough otherwise in cooking they could move.
STEP 5: SECOND LEAVENING
Sprinkle with salt and sprinkle with oil. Place the baking tin into off oven and rest for about 30 minutes.
STEP 6: COOK
Cook focaccia in preheated oven at 220°C for about 20 minutes.
When cooked and still hot, brush it with water + oil + salt mixture.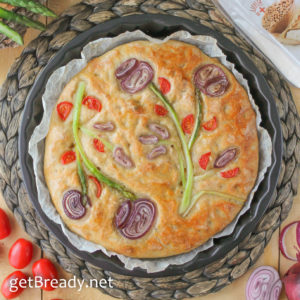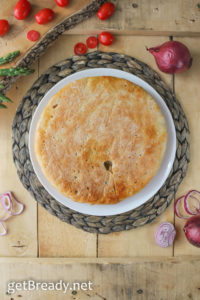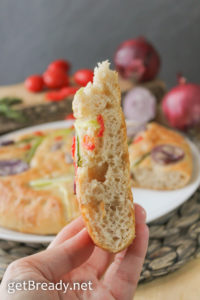 #getBready & enjoy your meal
Share on: