How to resist a bite that sinks into the soft? Simple: you can't!

So trust me and try the recipe to make a delicious stuffed focaccia where broccoli meet crescenza and fall in love with it! 
SERVES 4 PEOPLE
READY IN 3h 30'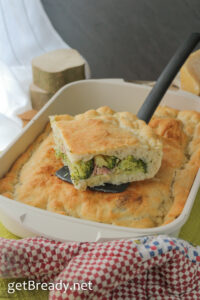 INGREDIENTS:
1 lb all-purpose flour
½ oz salt
1 cup warm water
½ oz brewer's yeast dissolved into 2 tablespoons warm water
2 tablespoons extra virgin olive oil
all-purpose flour to taste (for the pastry board)
oil to taste (for the baking tin)
1 broccoli, boiled
8,8 oz fresh cheese (I used "crescenza")
6 slice ham
3 tablespoons Parmigano cheese
½ glass water + 2 tablespoons oil + 1 pinch salt
STEP 1: MAKE THE DOUGH
In a bowl, place the flour, the salt and ¾ cup warm water. Mix with a fork. Add the brewer's yeast  dissolved into 2 tablespoons warm water, the oil and the remaining water until you get a wet mixture. Put some flour on the pastry board. Then place the mixture in the centre and knead it quickly by hand (just for 5 seconds!!). Cover the dough with a kitchen rag and let it rise for 3 hours.
STEP 2: STUFF THE PIZZA
Divide the pizza dough into two pieces and roll them out.
Place the first piece in a oiled baking tin,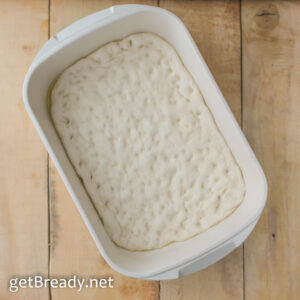 then add boiled broccoli, fresh cheese in pieces , ham slices an sprinkle with Parmigiano.
Cover with the second layer of dough. Press the edges with your fingers.
STEP 3: COOK
Brush the pizza with the water+oil+salt mixture and cook it in preheated oven at 250°C for 20 -25 minutes.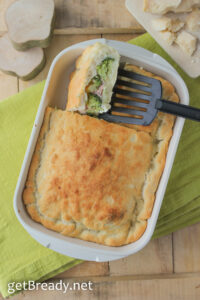 #getBready & enjoy your meal
Share on: