Do you know what CUOPPO is?

If the answer is no, I announce that you have missed one of the best pleasures in life!

In fact, Cuoppo is a paper full of delicious fried bites (from battered vegetables, to croquettes, from panzerotti to balls) ideal to taste on a walk.

It's one of the delicacies I discovered during last Expo, where – between international news – I certainly couldn't miss the chance to taste a real made in Italy.

Among my favorite morsels there are pasta fritters (so called "frittatine di pasta"): melt inside and with the crunchy breading outside!!

They are prepared by seasoning pasta with béchamel, cheese, ham and peas…

Certainly not light, but what a pleasure!
MAKES 8 BITES
READY IN 40'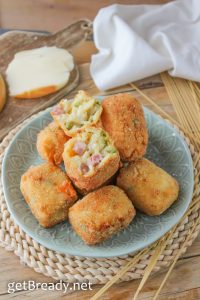 INGREDIENTS:
2 oz butter
2 oz all- purpose flour
2 cups cold milk
Salt and nutmeg to taste
6,3 oz spaghetti
Water and coarse salt to taste
1 tablespoon oil
1 tablespoon extravirgin olive oil
1 teaspoon chopped onion
1 cup fresh (or frozen) peas
2 tablespoons water
4,5 oz diced ham
Salt to taste
7 oz Provolone cheese
1 cup flour
1 egg + 1 pinch of salt
1 cup breadcrumbs
frying oil to taste
STEP 1: MAKE BECHAMEL SAUCE
In a non-stick saucepan, melt the butter. Remove from heat and add the flour, stirring with a whisk until you'll get a golden cream.
Put the pan on the fire and add the milk,  beating with a whisk to avoid lumps. Add salt and nutmeg to taste.
Carry on cooking over low heat for 10 minutes. If it gets too firm you can add a little milk!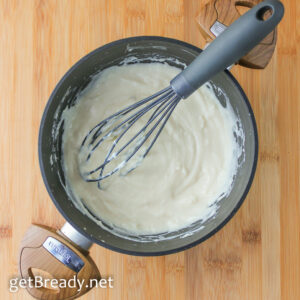 STEP 2: COOK PASTA
Cook spaghetti in salted boiling water for the time written on the packaging (the correct ratio requires 1 liter of water per hectogram of pasta and 12 g of coarse salt per liter of water).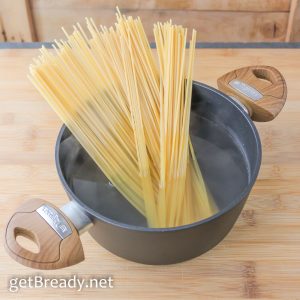 Drain them and set them aside, seasoning with just a drizzle of oil (to prevent them from sticking together).
STEP 3: COOK THE PEAS
Put oil and onion in a saucepan and brown for a couple of minutes. Add peas and water and cook for about ten minutes together with a pinch of salt.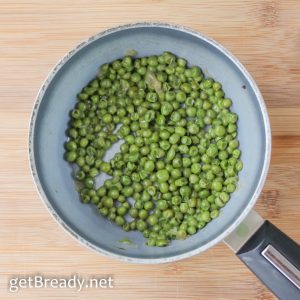 Now add ham and cook 1 more minute.
STEP 4: MIX PASTA
Mix pasta with bechamel, peas, ham and diced Provola.
Mix thoroughly.
STEP 5: PLACE IN THE TRAY
Place pasta in a rectangular pan (I use the lasagna one) and press it with the help of a spoon.
Now let it rest in the refrigerator so that it solidifies (at least 15 minutes if you don't want to struggle with the next step!).
STEP 6: BREAD
Now that pasta has cooled it will be easier to handle.
Cut it into cubes.
Pass them first in the flour
Then in the beaten egg with a pinch of salt
And finally in the breadcrumbs.
STEP 7: FRY
Fry the pasta fritters dip hot oil, turning them several times until they are golden brown.
Since the ingredients are all already cooked, the frying times will be really fast (just enough time to let the breading get golden brown 😉)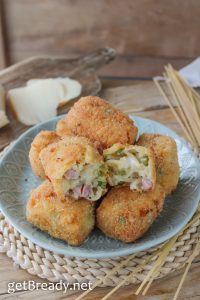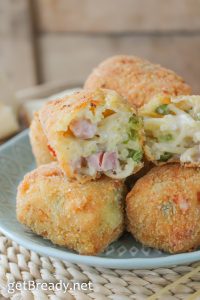 #getBready & enjoy your meal
Share on: