In my family meatballs are a must, so I absolutely have to make them properly!

We like tender ones, that melt in your mouth and with a creamy, velvety sauce, ideal to dip bread in it!

This time I wanted to flavor them with some "luganega" (that is a kind of sausage) and peppers: the result is phenomenal trust me, absolutely to try!
MAKES AB. 15 MEATBALLS
READY IN 1h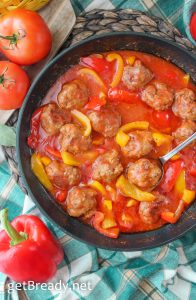 INGREDIENTS:
7 oz ground meat
1 sausage
1 egg
2 tablespoons Grana cheese
2 tablespoons breadcrumbs
Salt and pepper to taste
All-purpose flour to taste q.b.
2 peppers
3 tablespoons extra virgin olive oil
1 tablespoon butter
¼ glass white wine, dry
1 glass tomato sauce
1 cup hot water
Salt to taste
STEP 1: MIX THE INGREDIENTS
In a large bowl combine the ground meat, the sausage (chopped), the egg, breadcrumbs and Grana cheese; Add salt and pepper (and parsley if you like it).
Knead by hand until uniform.
STEP 2: MAKE THE MEATBALLS
Take a little of mixture and make it round, then flour it. Do the same with all the meatballs.
STEP 3: SLICE THE PEPPERS
Wash the peppers and remove the green part.
Slice them, removing seeds and the internal white part.
STEP 4: COOK THE MEATBALLS
In a large frying pan, place butter and extra virgin olive oil. Sauté for a few minutes adding the meatballs (about 5′).
Simmer with white wine until reduced.
Add a handful of sliced peppers and cook for 2 more minutes on high heat.
Turn the heat on low heat for about 45 minutes adding 1 or 2 cups hot water, tomato sauce and salt to taste.
5-10 minutes before turning off, add the remaining peppers.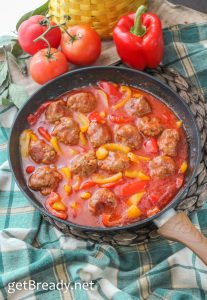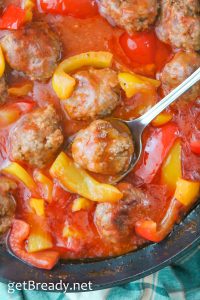 #getBready & enjoy your meal
Share on: